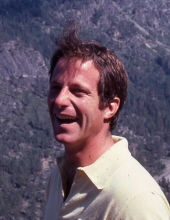 Obituary for George "Hener" Seaks II
George Henry "Hener" Seaks II passed away quietly on Wednesday, January 29, 2020 in Boulder, CO. He had been suffering from internal medical problems and was admitted to Good Samaritan Medical Center in mid-January 2020.

Mr. Seaks was born in Harrisburg, Pennsylvania on July 29, 1946. He was the son of John Miller Seaks and Anne Gitt Baker Seaks. He was raised in Abbottstown, Pennsylvania and then moved to York, Pennsylvania shortly after his middle school years. Hener attended and graduated from York Suburban High School in 1964. He was an excellent athlete and for many years he held the record for a 97-yard kickoff return.

Mr. Seaks attended and graduated from the University of Virginia in 1968 and was an active member of the Phi Gamma Delta Fraternity. Following his graduation, he attended George Washington University in Washington, D.C. where he received the Juris Doctor degree and then began his law career at the General Services Administration in Washington. Hener left DC to practice law in Gettysburg PA with the offices of Wolf and Oyler. While in Gettysburg, Hener made enduring friendships and lifelong memories. He then moved to Boulder to continue his law practice and to specialize in construction litigation. During his 35 years as a Boulder resident, he practiced law at Wells, Love & Scoby LLC and later with Hurth, Sisk & Blakemore LLP.

Mr. Seaks is survived by the many friends and families who considered him to be a brother, son, uncle, cousin and member of the family. With his unique charm, his indelible sense of humor, distinct laughter and friendships with so many from all walks of his special lifetime, Hener will be truly missed by those who had the opportunity to know him. At his request, there will be no funeral service, but should you want to honor Mr. Seaks, please direct contributions to his beloved Humane Society at 2323 55th Street Boulder, Colorado 80301.
Read More
Events