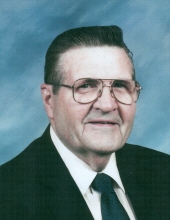 Obituary for George M. "Ted" Gilbert
George M. "Ted" Gilbert, age 93, peacefully passed away on Tuesday, September 27, 2016 at the Gettysburg Hospital, listening to a recorded Barbershop Quartet singing one of his favorite songs; "I'll Fly Away."
Ted was born on October 23, 1922 in Hanover, PA. He was the son of Lloyd C. and Mary Gilbert. He was predeceased by the love of his life; his wife, Grace Gilbert, a daughter, Cynthia Baker and his brother, Richard Gilbert.
Ted graduated from Gettysburg High School in 1940 and was active in musical theater, chorus, as well as a member of the football team. Ted was a member of the 470th Army Service Forces Band, serving as a special forces drummer in the army jazz band and served in the Army from June 1943 to March 1946. Ted worked for his father, Lloyd, who built Gilbert's Food Market on Franklin and West Middle Street in 1946, which is now Kennie's Food Market. He later worked for his brother, Richard, at Gilbert's Hobby Shop on Steinwehr Avenue and, for the past 32 years, has worked with his son Tommy at Tommy Gilberts Model Railroad and Hobby Shop on Water Street in Gettysburg in the accounting and sales representative department. It was a job he was dedicated to his entire life until the day before he passed away. Ted also started a model airplane club in his younger days, which met on weekends at the Rec Park. He also took flying lessons and got his pilot's license.
Ted love of and passion for music was quite evident. He was a member of the Hanover Standardbred Barbershop Chorus of Hanover, PA for the past 43 years and was their director/co-director for 10 years. He was also in a barbershop quartet called Sounding Board for 25 years, which sang for many social events. Ted was a member of St. James Lutheran Church in Gettysburg and, for 17 years, sang in the Presbyterian Church Choir under his son, Ted's, direction.
Ted had a very easy going nature and was honored to be a part of the Gettysburg Community and entertain with his musical group whenever he could. He was a friend to everyone with his gentle spirit. He was a former member of the Elks, Gettysburg Lodge, and Lions Club. Ted played the piano and drums and was a second generation drummer, following in the footsteps of his Great Grandfather, Charles E. Gilbert, who was a drummer boy for Company K 1st Pennsylvania Reserves, who fought in the Battle of the Wheatfield during the Second Day of the Battle of Gettysburg. His son, Ted, is a third generation drummer and Ted's son, Gabe is the fourth generation drummer. Ted loved the Redskins football team and Orioles baseball team, loved to cook and follow politics closely.
He was a wonderful husband to his wife, Grace, to whom he was married to for 47 years until her death in 1987.
Ted is survived by his two sons, Ted Gilbert (wife-Amy Riley Gilbert), Tommy Gilbert, grandsons, Flyn, Zac and Gabe Gilbert, granddaughter, Janelle Gilbert and three great grandchildren; Kaegan Baglien-Gilbert, Gavin Gilbert and London Gilbert.
Funeral services will be held at St. James Lutheran Church, 109 York St., Gettysburg on Saturday, October 8, 2016 at 11:00 AM. There will be a viewing the same morning from 9:30 AM until the time of the service at 11:00 AM. The Monahan Funeral Home is in charge of the funeral arrangements and online condolences may be made at monahanfuneralhome.com.
Ted's love of barbershop singing so permeated his being that, should anyone wish to contribute a monetary donation, please send a check to: Hanover Standardbred Barbershop Chorus. c/o Earl Erb, Treasurer, 7452 Hillcrest Drive, Abbottstown, PA 17301.


Previous Events
Service
St. James Lutheran Church
109 York St.
Gettysburg, PA