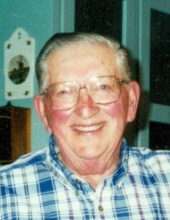 Obituary for George Mincsik
George Mincsik, 93, of Gettysburg, PA, passed away peacefully, Wednesday, February 17th, 2016. He had been residing at Transitions Healthcare in Gettysburg.

Born in Johnstown, PA on April 24, 1922, George was the son of the late Martha and Joseph Mincsik. He was the beloved husband of Mildred 'Millie' Mincsik for over 64 "wonderful" years. Millie recently passed on January 3rd, 2016.

George and Millie owned many successful family businesses over the years. They included The Dunbar Market (15 years) and Poplar Place Hardware (20 years) in Dundalk, MD. In 1972, they started Mil-G-Farm Antiques at their farm in
Gettysburg, PA, which continued for over 40 years. Throughout their many years in business, what they treasured most were the many special friends and acquaintances they met while mixing business with pleasure.
George always offered their customers "free delivery of antiques anywhere in the United States" and many took him up on his offer! They would load the van and head out on their "delivery vacation", then fill the van to maximum capacity on their way home with more antiques.

George and Millie were extremely proud of their family. 'Granddad' loved spoiling all of his grandchildren, but especially his great-grandchildren. Through his own actions, he taught them the value of hard work, but also to enjoy life to the fullest. Chores with Granddad were never a "chore". They also enjoyed many trips with their grandchildren. Even though there were many miles between us, we were always extremely close.

George was known for his tremendous work ethic and generosity. His true passion was gardening and working at his farm, especially while driving around on his John Deere tractor. Spring was his favorite time of year to show off his annual fall planting of hundreds of tulips and daffodils. He loved having beautiful trees and flowers all around his property as well as a freshly cut bouquet on their kitchen table. He also planted more than 50 fruit trees over the years - he always dreamed of having his own little orchard on their farm. He would invite family and friends to come to the farm to pick fruit off his trees - everyone loved coming up to 'the farm' to visit.

George was a WWII veteran, serving in the Army as a sergeant for almost 4 years (1941–1945) during the Battle of the Bulge. We recently learned he was nominated for a Purple Heart after being wounded.

George is survived by his five grandchildren, their spouses and children: Daneille and Randy Eddy (Emily) of Easton, NY, Scott Koenig (Scotty and Brent) of Baltimore, MD, Manette and Doug Eddy (Kyle and Shawn) of Brunswick, NY, Amy and Robin Archer (Violet) of New Zealand, Courtnee and Todd Cutler (Samantha) of Colonie, NY. He is also survived by his sister, Elda Karkut of Denver, Colorado.
George was predeceased by his step-daughter Carol S. Barsalou, 6 sisters and 5 brothers.

Relatives and friends are invited to call at Lower Marsh Creek Presbyterian Church, 1865 Knoxlyn Road, Gettysburg on Wednesday, February 24th, at 12 p.m. with the funeral service to follow at 2 p.m.
Pastor Troy Morgan will officiate and interment will follow at the Lower Marsh Creek Cemetery.

The family wishes to express heartfelt thanks to the entire staff at Transitions Healthcare, special friends, and neighbors on Weikert Road that assisted George, Millie and their family with extraordinary care and compassion over the years.

In lieu of flowers, memorial contributions can be made to the Lower Marsh Creek Church Cemetery Perpetual Care Fund, 1865 Knoxlyn Road, Gettysburg, PA 17325 - OR - the Fairfield Fire and EMS, P.O. Box 587 Fairfield, PA 17320.


Previous Events
Service
Lower Marsh Creek Presbyterian Church
1865 Knoxlyn Rd.
Gettysburg, PA 17325
Cemetery Details
Location
Lower Marsh Creek Cemetery
Gettysburg, PA 17325