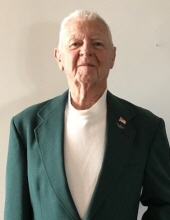 Obituary for Gerald E. Royals
Gerald E. Royals, 91, of Gettysburg, PA died Monday morning, July 6, 2020 at the York Hospital.
Born June 15, 1929 in Bogota, NJ, he was the son of the late Percy S. and Cecelia B. (Farrelly) Royals. He was the husband of the late Janet L. (Leibfried) Royals who died in February of 2011.
Gerald was a retired Colonel in the United States Army serving in the Master Army Aviator 65th Transportation Corp. He was both a Korean and Vietnam Nam veteran having served two tours of duty in Vietnam Nam. He was a 1952 graduate of and his class president at Gettysburg College and in 1974 he earned a Master's degree from George Washington University. He was a women's gymnastics teacher and judge as well as the head coach at West Springfield High School of the women's gymnastic team for nineteen years. He was inducted into the WSHS Athletic Hall of Fame for his service, dedication, and winning tenure as the Head Gymnastics Coach.
Col. Royals is survived by his three children, Debra S. Royals, of Chantilly, VA, Kevin S. Royals, of Tarpon Springs, FL, Ginger L. Royals, of Virginia Beach, VA, five grandchildren, Whitney Coates Barrera, James Coates, Leizl Baker, Meggie Baker, Casey Baker, and four great grandchildren, Matthias Barrera, Lucas Barrera, Abram Barrera, and Elias Barrera. He was preceded in death by his son, Terry Lee Royals and his daughter, Vicki G. Royals Baker.
A military memorial service will be Saturday, Nov. 7 at 2:00 at the Shady Grove Park at Lake Heritage. Attendees should wear masks and bring chairs to maintain physical distancing. The Monahan Funeral Home is in charge of the funeral arrangements and online condolences may be made at monahanfuneralhome.com.
Any donations may be made to Gettysburg College "Annual Giving Fund Class of '52" or "The Orange and Blue Club" (athletics), 300 North Washington St. Campus Box 426, Gettysburg, PA 17325. Donations may also be made to The Huntsman Cancer Foundation, 500 Huntsman Way, Salt Lake City, Utah 84108 (memo to Gerald Royals, Theta chapter of Sigma Chi Fraternity).
Read More
Previous Events
Service
Lake Heritage Community Center
1000 Heritage Rd.
Gettysburg, PA 17325