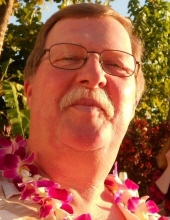 Obituary for Gerald L. Althoff
Gerald "Jerry" L. Althoff, 65, of Gettysburg, PA passed away on Saturday, December 19, 2020 at the Gettysburg Hospital.

He was born May 31, 1955 in Gettysburg, PA, the son of the late Edward and Mary Riley Althoff. He is survived by his wife of 33 years, Janice "Jan" Davies Althoff, two daughters; Denise Stewart of Gettysburg, PA, Jill Althoff of Gettysburg, PA, a grandson, Caleb Stewart, one sister, Joyce L. Kroushour of New Oxford, PA, three brothers; Robert E. Althoff of Gettysburg, PA, Kenneth F. Althoff of Orrtanna, PA, and Donald W. Althoff of Orrtanna, PA. He was predeceased by brothers; Edward J. Althoff, Jr., Richard M. Althoff, a sister, Teresa Marie Althoff, sister-in-law's; Marion "Winnie" Speelman Althoff, Barbara Taylor Althoff and Brenda Redman Althoff.

Jerry was employed by Schindler Elevator for many years. He then established, and was the owner and operator of Countryside Gardens for 32 years. He started Adams County Gleaning Network in 2009 and operated it for four years. As the project flourished, it became a large undertaking in addition to his full-time business. Management was transitioned to SCCAP and the operation was expanded under the name of The Gleaning Project of South Central PA. Jerry and Jan were named Peacemaker of the Year in 2010 by the Interfaith Center for Peace and Justice in Gettysburg, PA for their establishment and dedication to the Gleaning Network.

He had a love for Native Americans and spent time enjoying nature and looking for artifacts and relics. He especially loved watching and calling to the hawks that flew overhead. He was a member of the PA Native American Flute Circle. For over 10 years he spent a week annually at the Cheyenne River Sioux Indian Reservation in South Dakota, building handicap ramps for the people in need. He loved spending time with the children and youth on the reservation, and had a special connection, watching them grow over the years.

His creative cooking will be missed greatly. Please share memories with his family at: jlalthoff@pa.net.


Private funeral services will be held Monday, December 28, 2020 at 2:00 PM and can be viewed online at Zoom https://zoom.us/j/98204365066?pwd=STRLZm1Cazdrb0NxZjd5d3JuZkNtUT09 ID – 982 0436 5066, Passcode – 263585 In lieu of flowers memorials can be made to The Gleaning Network of South Central PA, 153 North Stratton Street, Gettysburg, PA 17325 or Youth Group, c/o Doug Dupris, PO Box 1531, Eagle Butte, SD 57625 or Windswept Academy, c/o April Anderson, PO Box 1576, Eagle Butte SD 57625. Online obituary and condolences available at monahanfuneralhome.com.
Read More
Previous Events
Service
Online
0
1, 1 1
ZOOM at https://zoom.us/j/98204365066?pwd=STRLZm1Cazdrb0NxZjd5d3JuZkNtUT09 Meeting ID: 982 0436 5066 Passcode: 263585 Or Dial by your location +1 646 876 9923 Meeting ID: 982 0436 5066