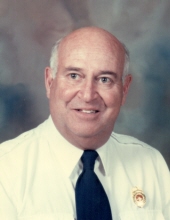 Obituary for Glenn K. Herring
Glenn Keith Herring, 84, of Cashtown, PA died at his home on the morning of December 19, 2016. He was born near Orrtanna in Highland Township on September 9, 1932 and was the youngest son of Curtis E. & Alice Deardorff Herring.
Glenn's early years were spent on the farm. His mother died when he as 2 1/2 years old. When his father died in 1946, Glenn became an orphan at age 13. Mrs. Maizie Henderson, wife of Dr. Ira Henderson made arrangements for him to enter the Hershey Industrial School (now called the Milton Hershey School) to learn the electrical trade; while there he also played baseball. Glenn's time at the Hershey School had a great impact on his life.
After graduation Glenn returned to Adams County and married his wife, Jean White Herring. He started his own electrical business in Cashtown in 1954. He operated the business through 2015, and was still doing electrical work for members of the community at the time of his passing. Glenn spent his life serving his community in a variety of capacities.
Glenn was a charter member of the Cashtown Community Lions Club, serving three times as its President and being named Lion of the Year twice. He was the chairman of the Lions' Annual Talent show for many years, was the caretaker of the Cashtown Lions Park and served on many committees of the club.
Glenn served on the Franklin Township School Board for six years, including two years as President.
Glenn was an amateur baseball player, playing the position of catcher, in the Penn Mar & South Penn baseball leagues. He was also a coach & manager for many years, most of them with the Cashtown team. He served as the Secretary-Treasurer and President of the South Penn League. He also managed the first Pony League at Cashtown. His baseball career spanned about 30 years.
Glenn joined the Cashtown Community Fire Company in 1953, serving more than 35 years as an officer of the company including 14 years as Fire Chief. He was responsible for starting the Junior Firemen's program at Cashtown and helped to initiate the medical Quick Response Team at Cashtown, the first in Adams County. He served for a number of years as a Forest Fire Warden for the PA Bureau of Forestry. He served as Chairman of the Adams County Communication Board of Governors for 10 years and was instrumental in establishing the card file dispatching system for Adams County emergency equipment. Glenn worked diligently for many years to ensure that a training center would be established for the emergency services in Adams County. He was a member of the Fireman's Association of the State of Pennsylvania, the Southeastern Fireman's Association of Pennsylvania and the Adams County Volunteer Emergency Services Association. He was the Fire Marshall of Adams County at the time of his death, a post that he held for more than twenty years.
Glenn served the Commonwealth as a Deputy Game Protector for the Pennsylvania Game Commission in Adams County for 39 years, being recognized as an outstanding Deputy on three occasions. He served as a hunter's safety instructor for more than 50 years, from 1961 until the time of his death.
Glenn was a member of the Trinity United Church of Christ in Cashtown .Glenn is survived by his wife of 63 years, Jean White Herring, 2 daughters; Glenda C. Heyser and husband Roger of Gettysburg, PA and Vicki E. Herring of York, PA, his son, Curtis J. Herring of Cashtown, daughter-in-law, Sharon Culp of Cashtown and his grandchildren; Benjamin Heyser, Wesley Heyser and wife Christine and Becca Herring. He was predeceased by his 4 brothers; Melvin, Chester, Jay and Ira Herring. Funeral Services will be held at 11:00 a.m. on Friday, December 23, 2016 at the Gettysburg College Chapel with Revs. Austin Chinault and Christina Fidanza, officiating. Interment will be in Flohrs Cemetery, McKnightstown, PA. The family will receive friends on Thursday, December 22, 2016 from 6-8 p.m. at the Monahan Funeral Home in Gettysburg and on Friday from 10-11 a.m. at the College Chapel. The family suggests memorials to: Cashtown Fire Co., 1111 Old Route #30, Orrtanna, PA 17353 or the Cashtown Lions Club, 427 Silo Road, Orrtanna, PA 17353. The Monahan Funeral Home in Gettysburg is assisting the family with the funeral arrangements, online tributes and condolences can be made at monahanfuneralhome.com.


Previous Events
Visitation
Monahan Funeral Home
125 Carlisle Street
Gettysburg, PA 17325
Service
Gettysburg College Christ Chapel
300 North Washington St.
Gettysburg, PA
With a viewing at the Chapel from 10:00 AM until the time of the service
Cemetery Details
Location
Flohr's Cemetery
595 Flohr's Church Rd.
McKnightstown, PA 17343