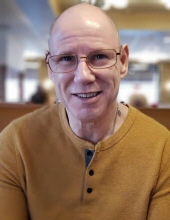 Obituary for Gregory S. Henderson
Gregory S. Henderson, 58, of Gettysburg, PA died Friday afternoon, December 18, 2020 at the Lebanon VA Medical Center.
Born September 7, 1962 in Blytheville, Arkansas he was the son of Sandra (Crawford) Dennis, of Blytheville, Arkansas and the late Ralph "Steve" Henderson. He was the husband of Kristi S. Nodine, of Gettysburg, PA to whom he was married to for two years. #Henderdine
Gregory was a member of Intersection Church in Gettysburg. He was a Veteran of the United States Navy. He earned his Bachelor's degree from Shelton State Community College and attended the University of Alabama and Stillman College. He worked as a computer programmer, construction worker and a teacher. He enjoyed reading, Christian music, and spending time with his bonus son, Jacob.
In addition to his wife, Gregory is survived by his four step-children, Kari A. Nodine, Megan E. Nodine, Teegan W. Nodine, Jacob Z. Nodine, his two sisters, Leslie Ann Henderson Simpson, Kimberly Henderson Williams, two half-sisters, Karen Kruse Smith, Jennifer Hays Pruett, and a half-brother, Scott A. Henderson. He was preceded in death by his sister, Terri Henderson Somerset.
There will be a memorial ride past Gregory and Kristi's home, convening in the Monahan Funeral Home parking lot, 125 Carlisle St., Gettysburg, PA at 5:30 PM, Tuesday, December 22, 2020 and procession leaving at 6:00 PM. There will be a Celebration of Greg's life at a future date to be published in the Gettysburg Times. Online condolences may be made at monahanfuneralhome.com.
Read More