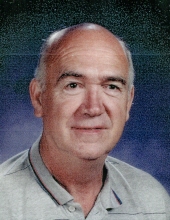 Obituary for Harman L. Spence
Harman L. Spence, 77, of Gettysburg, died very peacefully, following an over 10 year battle with cancer, at Gettysburg Hospital Comfort Care on Friday, surrounded by members of his family.

Born June 12, 1939, he was the son of the late James Edward and Gladys (Kime) Spence. He is survived by his wife of 47 years, Linda (Sterner) Spence, sons David Spence, of Billerica, MA, and Brian Spence, of Philadelphia, PA, a brother Ralph Spence, of Arendtsville, PA, as well as numerous nieces and nephews. Harman was the youngest in his family of 14, and he held a great love for all his family and friends. He was predeceased by 5 sisters; Mary Wetzel, Hope Shaffer, Jean Spence, Anna Neely, and May McCrone; and 7 brothers; Olmer Spence, Clark Spence, James Spence, Carroll "Spark" Spence, Wayne Spence, Paul Spence, and Cloyd Spence.

He was a member of Trinity Lutheran Church in Arendtsville, PA. He served his country in the Air Force Reserves, being activated in late 1962 during the Cuban Missile Crisis. He was a member of the Biglerville American Legion, the Fairfield AMVETS, and a life member of the Elks Lodge. Harman worked for his brother Clark in his Pepsi Cola business following graduation from Gettysburg High School in 1957, until he, 5 brothers, and a nephew opened a beer distributor, Adams County Home Beverage Corporation, near Cashtown. Harman managed the distributor until it was sold in 1991. He then worked a short time at Agway in Chambersburg; and then as custodian at Biglerville High School until his retirement in July 2002. Harman then entered one of the happiest times of his life, delivering flowers for Musselman's Flower Shop. He enjoyed the smiles his deliveries brought and the interaction he had with so many of his friends.

Harman loved people, and was well known for his wit and humor. He also loved gardening and really enjoyed sharing his bountiful produce with neighbors, family, and friends. He will be missed by many.

A Memorial service will be held Friday, November 11, 2016 at 11:00 AM at St. James Lutheran Church in Gettysburg, PA with his pastor Rev. Ben Siebert officiating. The family will receive friends at the church on Friday from 10:00 AM until the time of the service. In lieu of flowers memorials can be made to the Trinity Lutheran Church, 38 North High Street, Arendtsville, PA 17303.
Read More
Previous Events
Service
St. James Lutheran Church
109 York St.
Gettysburg, PA
Family will receive friends at the church from 10:00 AM until the time of the service