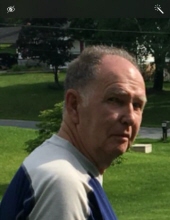 Obituary for Harold Dean Thomas
Harold Dean Thomas, age 79, of Monrovia, MD went to be with his Savior on Friday, January 21st at Gettysburg Hospital. After a 12-year battle with Parkinson's, Harold now has a new, resurrected body in Christ. While on this side of heaven, he modeled grace and dignity as his health declined. A wonderful, loving, husband and provider, he leaves behind his wife of 58 years, Brenda Thomas (Monrovia, MD) and two sons Greg Thomas (Gettysburg, PA) and DuWayne Thomas (Monrovia, MD), a daughter-in-law, Tracey Thomas (Gettysburg, PA) and three grandchildren that adored him and looked forward to sleepovers with Grandpa and Nina: Mallory, Spencer, and Owen Thomas (all of Gettysburg, PA); his brother Paul Thomas (San Diego) and nieces Vanessa Doyle (San Diego), Paula Marron (Oregon)and Becky Thomas (San Diego). He was preceded in death by his parents Howard and Edna Thomas and a sister, Evelyn, all of West Virginia.
Born and raised in Keith, West VA, Harold moved to Maryland and worked for Washington Gas and Light for 33 years and then retired. He was an avid hunter and taught his sons those skills and a respect for natural resources. Harold was an active member at New Beginning Church in Mt. Airy, MD until his health would not allow it.
There are no sufficient words to sum up Harold's life and he will be greatly missed. "Those that wait upon the Lord shall renew their strength, they shall mount up with wings like eagles; they shall run and not be weary, they shall walk and not faint". Fly, Dad, fly!
Cremation services provided by Monahan Funeral Home. In lieu of flowers, the family requests donations in memory of Harold be sent to the Parkinson's Foundation: https://secure3.convio.net/prkorg/site/Donation2?10243.donation=form1&df_id=10243&mfc_pref=T or call 800.473.4636.
A memorial service will be held at a later date.
Read More