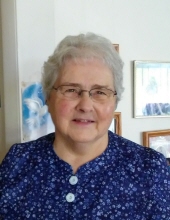 Obituary for Irene "Renie" Lawrence
Irene "Renie" Louise (Crouse) Lawrence, 80, died on July 23, 2020. She was born on September 22, 1939, to Pauline Esther (Worley) Crouse and Hobson Dewey Crouse in Tyrone, Carroll County, MD. She was the thirteenth of fourteen children. Renie and her husband, Bernard F. "Ben" Lawrence, celebrated their 60th wedding anniversary on July 16, 2020.


A 1956 Gettysburg High School graduate, Renie met Ben on a Greyhound Bus in December 1958 as they traveled home from schools in Philadelphia.


After they married, Renie and Ben moved for Ben's jobs to places in PA, MI, and IN. Eventually they planted themselves back in Gettysburg, where they moved to "The Old Farmhouse" where they hosted ice skating parties for family and friends, serving up love, laughter, a bonfire to warm cold toes and fingers, and mugs of delicious homemade hot chocolate (using Renie's own recipe, of course!)


Renie was passionate about and devoted to her family and her faith in God. Along with Ben, she ran two different prayer groups at various times in their home for a total of 18 years, which they enjoyed very much. She demonstrated her love for God, for family, and for other people through her cooking and her music. One example was Renie's "bread ministry." With Ben, she made homemade bread (her recipe) and delivered the bread to whomever needed a lift. For St. Patrick's Day, she colored the bread dough green and for Easter, the bread was light purple!


Renie loved to cook. She constantly tried to improve on her recipes, so each version of the recipe was dated so her children and grandchildren could find the newest version! Renie enjoyed cooking with her grandchildren, and she had fun incorporating each grandchild's name into the title of a recipe.


Renie was an accomplished pianist and could instantly transpose to any key. She enjoyed having music parties at her home. Renie played music for over 25 years at various places: St. Francis Xavier Catholic Church and School, and at least three other churches. She taught her children to play the piano, spurring their interest in and love for music.


Renie graduated from Bryn Mawr Hospital School of Nursing in Philadelphia in 1959. She worked as a registered nurse (R.N.) at a variety of hospitals and organizations, including The Gettysburg Hospital; Hanover Hospital; and Green Acres in Gettysburg.


Renie is survived by her children, Alicia Smith, Bernie J. Lawrence, Tricia Lawrence (Dick Cordes), Jeanne Zumbrum (Mike), and Judy Cox (Scott); 21 grandchildren; and two great-grandchildren (with another expected soon). Her grandson, Matthew Cordes, predeceased her.


Three of her siblings survive Renie: Rhoda "Boots" Conover, Larry Crouse, and Tim Crouse. Ten siblings predeceased her: Betty Baker, Fred Crouse, Earl Crouse, Bobby Crouse, Reta Warner, Ned Crouse, Ross Crouse, Jay Crouse, Ted Crouse, and Terry Crouse.


The family understands that many who would normally gather to celebrate Renie's life may choose to remain home at this time for their health. For those who cannot come, the family knows your thoughts and prayers are with them, and that you are with them in spirit.


On Saturday, July 25, 2020, a viewing will be held from 9:30-10:30 am at St. Mary's Catholic Church, 256 Tract Road, Fairfield, PA. Immediately following the viewing, a Memorial Mass will be held at 11 am with Fr. Daniel Mitzel of St. Francis Xavier Catholic Church, Gettysburg, as Celebrant. Burial will be in St. Francis Xavier Catholic Cemetery in Gettysburg directly following the Mass.


The family requests that everyone bring and wear a mask and practice social distancing to protect our most vulnerable family and friends from coronavirus and to comply with the mandates from the State of PA & the Diocese of Harrisburg.


The Monahan Funeral Home is in charge of the funeral arrangements. Online condolences and sharing memories may be made at monahanfuneralhome.com.


In lieu of flowers, please send memorials to St. Francis Xavier School, 465 Table Rock Road, Gettysburg or to the family.


Previous Events
Visitation
St. Mary's Catholic Church
256 Tract Rd.
Fairfield, PA 17320
Service
St. Mary's Catholic Church
256 Tract Rd.
Fairfield, PA 17320
Cemetery Details
Location
St. Francis Xavier Catholic Cemetery
West High Street
Gettysburg, PA 17325