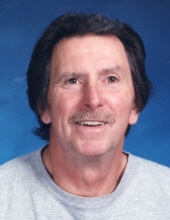 Obituary for James Edward Gue "Pap"
James Edward Gue "Pap", 81, passed away on Saturday November 9, 2019. He was surrounded by his family in his beloved home with his dog Dozer by his side.

Born July 4, 1938 in Frederick, Maryland he was the son of the late Jasper and Leary Gue. Jim is survived by his loving wife of 62 years Patricia Gue, who took great care of him during his lengthy illness. In addition he is survived by four children and their spouses Kathi and Terry Seymour, Terry and JB Whittington, Jaime and Gene Andrew and Jimmy Gue. Jim had seven grandchildren Tomarra Dalton, Brandy Greenwald, Amber Beachley, Jesse Beachley, James Whittington III, Jennifer Wineberg and Ashley Regnier. As well as eight great-grandchildren and many loving relatives and friends.

Jim loved to spend time with his family, he especially loved to hunt at his cabin in PA, and to watch and feed wildlife. Jim loved Elvis and Johnny Cash and was quite the dancer. Pap also liked to relax with a glass of Jim Beam and gingerale.

Family will be celebrating his life in the spring of 2020 at his favorite place, his cabin in Amaranth, PA. The Monahan Funeral Home is in charge of the funeral arrangements and online condolences may be made at monahanfuneralhome.com.

In lieu of flowers please donate to the Parkinson's disease foundation at Parkinsons.org or Parkinson's Foundation, 1359 Broadway, Suite 1509, New York, NY 10018.
Read More