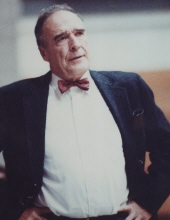 Obituary for James Joseph Phelan
In the early hours of June 16, 2021, we lost our beloved James Joseph Phelan. He was 92. His prior day had started well, sharing a nice cold glass of Tang with his bride of almost 67 years, Dottie. He worked out, and spent time with various children and grandchildren. He played Jeopardy. Then our old warrior left the world as if he and God Himself drew up the play: quickly and peacefully at home, just a half mile down the road from the Mount. We will miss him terribly, but his humor and wisdom lives on in us. He was a wit, a mentor, a patriarch and a pattern breaker, in the best sense.


Jim was born on St. Joseph's Feast Day, March 19, 1929 in Philadelphia to Lillian Ashton and James Patrick Phelan. Jim grew up without a father, so he became the father he'd always wished he'd had. That was after marrying the pretty Dottie Liddy who had previously only dated Villanova men (Coach was a LaSalle man). She was from the Main Line; he was from the tough streets of South Philadelphia. Basketball was his ticket to an excellent education for himself and many others, thanks to a surprising stop for the last 67 years of his life: Mount St. Mary's University in Emmitsburg, Maryland.

His college coach, Ken Loeffler, predicted that the newly hired youngest head basketball coach in the country would "go to that beautiful place, have great success, and no one will ever hear of you." He was partially right. The Mount is incredibly beautiful, and Jim Phelan had Hall of Fame success. But this humble man earned fame he never sought, from a life he absolutely loved.

For those who bet against the handsome young Marine and his stunning city wife making it in the rolling hills of Northern Maryland, we're afraid (and delighted) to say, you lost that bet. Big time. They loved it, and it loved them back. He treasured the people of the local community and the historic college. All shared a common life ethic: fairness and fierce competition were not at odds, but were inseparable forces.

Coach's athletes were expected to earn a degree, but also to explore and grow; be curious, work hard. Have fun and have faith. He helped shatter the color barrier in the old Mason-Dixon conference, and as Athletic Director, Coach helped establish and expand women's sports when the Mount went co-ed in the early 70s. The pattern-breaker strikes again.

To Coach, the only thing better than a worthy adversary, was family. Coach and Dottie, who grew up as only children, longed for a big family. They were thrilled to have five children of their own, a large number in most places – but a bit small in Emmitsburg. Later came 12 grandchildren and step-grandchildren, a great grandson, plus the countless athletes, students, priests, nuns, professors and friends over the many years – all of whom were unequivocal family.

Some parting thoughts… Lighten up; "Life is far too important to talk seriously about it," paraphrasing Oscar Wilde. Read newspapers, but preferably not while driving. Find a hobby, like horse racing, for example. Seek opposing views and keep an open mind. On the other hand, if you feel certain that the other person is incorrect, politely inform them that they are entitled to their wrong opinion. Note that expressing this certainty aloud will make for a passionate debate, so be prepared. Be a pattern-breaker; life deserves as much originality as you can bring to it.

Jim / Coach / Pops (his favorite life role) is survived by his wife, Dottie, four children: Jim Phelan, Lynne Phelan Robinson, Carol Phelan-Marsh (John Marsh), Bobby Phelan (Cheryl), grandchildren Kevin Robinson (Trish), Tim Robinson, James Robinson, Kate Robinson, Mary Robinson, Jack Marsh, Conor Marsh (Emily Reich), Maureen Marsh, Kelsey Phelan (Ian Andrews), Erin Phelan, Molly Phelan, Luke Phelan and great grandson Quentin James Andrews. He was predeceased by his son, Larry Phelan.

A memorial Mass of Christian Burial will be celebrated on Thursday, June 24, 2021 at 1:00 PM on the Jim Phelan Court in the Knott Arena on the campus of Mount Saint Mary's University, Emmitsburg, MD with Rev. Msgr. Thomas Mullelly celebrant. The family will receive friends following the Mass across the hall in Dillon Field House. Interment will be private at St. Joseph's Cemetery, Emmitsburg, MD at a later date. In lieu of flowers, the family requests donations be made to Mount St. Mary's University Athletics, 16300 Old Emmitsburg Road, Emmitsburg, MD 21727. Online obituary and condolences available at monahanfuneralhome.com.
Read More
Previous Events
Service
Jim Phelan Court, Knott Arena, Mount St. Mary's University
16300 Old Emmitsburg Road
Emmitsburg, MD 21727