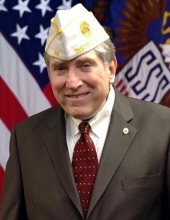 Obituary for James P. Schuback, LTC(RET)
James Patrick Schuback, LTC(RET), known to his friends as "Pat," passed away at his home in Gettysburg on Tuesday, November 6, 2018. He was 72.
A native of San Antonio, Pat was a graduate of the University of Houston and studied at Central Michigan University and Webster University, earning three master's degrees. He served as an officer in the United States Army for over 20 years. His first assignment as a young Lieutenant was in Civil Affairs, processing the Vietnamese refugees into the U.S. after the Fall of Saigon. Further in his Army career, he was assigned in Public Affairs and worked on the highly regarded "Be All You Can Be" campaign. He received several awards and decorations, including the Defense Superior Service Medal. After retiring from military active duty, he was employed by the Federal Government. He retired last year from the Selective Service System after working 22 years in Public and Intergovernmental Affairs. The many Selective Service posters and pamphlets he created are still displayed throughout the country in post offices and schools. Likewise, the television and radio PSAs he produced continue to be aired nationwide. He was commended with the Agency's highest award. Pat was a member of several clubs and organizations. He was the former Commander, American Legion Department of the District of Columbia. He was a Mason, a member of the Army Navy Club and ANAVICUS.
Pat is survived by his wife of 39 years, Mary Foster, son Boyd, granddaughter, Sydney-Lee, and great-grandson, Pierce. He will be forever remembered and missed by his father, Philip, his stepmother, Betty, his brother, Michael, and his nieces, Joann, Alison and Michelle. He is preceded in death by his mother, Angeles Leahy.
He will be honored by the American Legion with a special tribute in February.
Pat will receive Full Military Honors at Arlington National Cemetery. The services and burial will be at a future time.
Memorial donations in memory of Pat may be made to the Multiple Myeloma Research Foundation, 383 Main Avenue, 5th Floor, Norwalk, CT 06851.
The Monahan Funeral Home is in charge of the funeral arrangements and online condolences may be made at monahanfuneralhome.com.
Read More