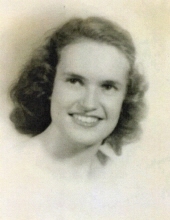 Obituary for Janice Felt
Janice Felt, 89, a decades long resident of Gettysburg, PA died June 17, 2018, at SpiriTrust Lutheran Village.
Born in Madison, SD, Janice grew up working in her father's corner grocery store, delivering groceries to neighbors in her red wagon. She spent much of her summers at a family farm, learning to drive a tractor by age 12 and the farm pickup truck at 14, when she could see over the dashboard. Graduating in the top of her class in high school, she went on to complete her bachelor's degree in education with honors at the University of South Dakota while pregnant with her first child.
Janice taught at Claremont elementary school in Arlington County, VA, until the family moved to England, where her fourth child was born. As the wife of a CIA liaison to British intelligence, Janice hosted frequent diplomatic events at the family's home where her culinary delights, such as lobster Newberg and strawberries with clotted cream, made these must-attend events.
After she and her husband of 70 years, Frank Felt, retired to Gettysburg in 1976, they spent summers traveling with their two youngest daughters on circuses up and down the East Coast. While the kids performed and Frank had management roles, Janice took tickets, sold candy and souvenirs, counted cash, and did whatever else was needed to keep the show on the road. When not with the circus, Janice also found time to work with the League of Women Voters.
Besides memorable sing-a-longs with family and friends around the piano, Janice shared her beautiful singing voice and piano talents by participating in choirs in England; McLean, VA; Gettysburg, PA; and Riverview, FL.
Predeceased by Frank, just three months earlier; she is survived by three daughters, Nancy, Karen, and Lisa; a son David; nine grandchildren; and two great-granddaughters.
A memorial celebration of her life will be held Sunday, July 22 at 2:00 pm. at SpiriTrust Lutheran Village, 1075 Old Harrisburg Rd., Gettysburg PA 17325.
Read More
Previous Events
Service
SpiriTrust - Gettysburg Village
1075 Old Harrisburg Road
Gettysburg, PA 17325