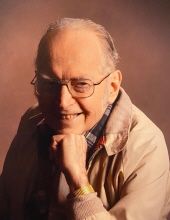 Obituary for Jay C. Hartman
Jay C. Hartman, 87, of Gettysburg, PA passed away at his home on Saturday, March 12, 2022 after a lengthy illness. Born September 01, 1934 in Gettysburg, he was the devoted son of the late John C. & Mary F. (Boyd) Hartman. Jay was a 1952 graduate of Gettysburg High School and a lifelong member of Mt. Joy Lutheran Church in Barlow. After high school he joined the Army Reserves. Jay was a partner in J.C. Hartman and Sons delivering Sinclair (later known as Cities Service) fuel oil to local customers and selling tires, batteries and etc. He later sold real estate with Strout Realty. Jay was also a farmer in Adams County specializing in custom farming.
Surviving are five sisters, Neva J. Leatherwood of Ellicott City, MD, Connie H. Weaner of Gettysburg, Merial E. Heldt of The Villages, Fla., Vera Kay Mackey of Gettysburg and Rena "Sue" Rebert of Gettysburg, 5 nieces, 11 nephews, 12 great nieces, 9 great nephews, 4 great great nieces and 3 great great nephews. Jay was predeceased by his brother, Francis B. Hartman who died in 2000. A Private interment will be held in the Evergreen Cemetery, Gettysburg. In lieu of flowers, contributions can be made to Mt. Joy Lutheran Church, 2615 Taneytown Rd., Gettysburg, PA 17325 in Jay's memory. Condolences can be made at monahanfuneralhome.com.
Read More