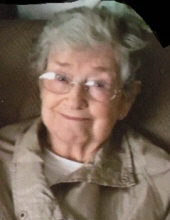 Obituary for Jean Louise Arnsberger
Jean Louise Arnsberger, 91, of Gettysburg, PA died Friday evening, September 13, 2019 at her daughter's home, surrounded by her loving family.
Born November 9, 1927 in Gettysburg, PA she was the daughter of the late Walter and Helen (Woodward) Kennell. She was the wife of the late John Gifford Arnsberger who died 2009.
Mrs. Arnsberger was a life member of the Gettysburg Fire Department.
Jean will be greatly missed by her loving family, which includes her daughter, Bonnie Murren and her husband Mike, of Littlestown, PA, her granddaughter, Nikki McCoy, of York, PA, her great grandchildren Kailey Mixell, Kade Mixell, Kash Mixell, her two sisters, Nancy Leatherman, of Gettysburg, PA, Barbara Smith, of South Carolina, her sister-in-law, Barbara Bly, of Gettysburg, PA, her brother-in-law, Ronald Arnsberger, of Biglerville, PA, and a number of nieces and nephews. She was preceded in death by her granddaughter, Amanda Jean Kelly, her great granddaughter, Kali Mixell, her sister, Phyllis Green, and her three brothers, Charles Kennell, Walter Kennell, Jr., and Leonard Kennell.
Funeral services being handled by the Monahan Funeral Home will be private and at the convenience of the family. Online condolences may be made at monahanfuneralhome.com.
Family suggests memorial contributions be made at VNA Hospice of Hanover & Spring Grove, 440 Madison St., Hanover, PA 17331.
Read More