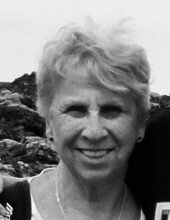 Obituary for Jeanette Marie Tufts
Jeanette Marie Tufts, of Gettysburg, passed away Friday, June 22, 2018 at her Gettysburg home of 42 years.
Born August 5, 1944 in Chambersburg, PA she was the daughter of the late Robert and Pearl Elser. She was the wife of Richard B. Tufts, of Gettysburg to whom she was married to for 52 years.
Jeanette graduated from Chambersburg High School Class of 1962 and Weaver Airline School in Kansas City, Missouri. She worked for National Airline in New York City until becoming a homemaker to raise her three children. Later in life, she was a paralegal for a Washington, DC law firm specializing in telecommunications.
Jeanette enjoyed traveling, skiing, quilting, sewing, and flower gardening, but family was the most important thing in her life. She cherished family vacations and gatherings - anytime her family was together, a card game was sure to break out.
In addition to her husband, she is survived by her three children - Deborah T. Bowersox and her husband Paul, of Gettysburg, PA; David A. Tufts and his wife Tamar, of Winchester, VA; Donald B. Tufts and his life partner Kathleen Senior, of Paxton, MA; seven grandchildren - Morgan, Christina, Bonita and Savannah Soliday; Jared and Brian Tufts; Michela Tufts; three step grandchildren – Claire and Steven; Shannon; one great grandson, Camden Cooper; four nephews, and one niece. She is also survived by her brother and sister-in-law, Ron and Pam Elser; brother-in-law Ron Stevens and was predeceased by her identical twin, Judith Stevens.
Funeral services, being handled by the Monahan Funeral Home, will be private and at the convenience of the family. Condolences may be directed to the funeral home or shared online at their website, monahanfuneralhome.com.
The family would like to thank the Wellspan Medical Oncology and SpiriTrust Lutheran Home Care & Hospice for their compassionate care.
Read More
Events