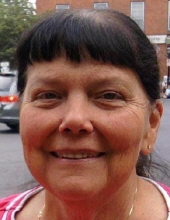 Obituary for Jeanne Claire Spielman
Jeanne Claire Spielman, 75, of Fairfield, PA passed away on Saturday, December 10, 2022 in Camp Hill, PA.
Jeanne was born on October 27, 1947 in Gettysburg, PA to the late James Scott Donaldson and Dora Ada (Woods) Donaldson.
Jeanne worked as an office manager at Renn Kirby car dealerships and loved her job. She was a lifetime member of St. John's Lutheran Church in Fairfield, a member of the Fairfield Amvets Ladies Auxillary, and a proud Pippinfest committee member. Jeanne loved to crochet, she would often gift blankets to friends and family for special occasions. She enjoyed mowing her yard with her John Deere tractor and was grateful for her wonderful neighbors. Jeanne loved to collect items like crystals and pottery crocks from Pippinfest in Fairfield, PA. She always helped organize her class reunions and loved reuniting with old classmates. She loved everything to do with England, her mother, Dora, was born and raised in England and moved to Fairfield after marrying her father, James. She was proud of her English affiliation and upheld many of their beliefs and traditions. She had a special place in her heart for animals especially for her dogs, Daisy and Ally. Jeanne was a genuine people person and loved being around friends, family, and neighbors. Jeanne was a loving and dedicated mother, grandmother, sister, aunt, daughter, friend and more. She was kind and dedicated her life to making those around her happy and expected nothing in return. She was always making people smile whether with her kindness or her sense of humor.
In addition to her parents, Jeanne is predeceased by her nephew, Zach Donaldson. She is survived by her son, Brian Spielman, her grandson, Brady Spielman, her brother, Michael Donaldson (Tami), her nephew Wes Donaldson and his children Bella and Bailee, her niece Kari Donaldson-George (Mark) and their children Kiley and Brett, and her great-nephews, Dustin and Kobe.
There will be a memorial service for Jeanne on Saturday, December 17, 2022 at St. John's Lutheran Church in Fairfield, PA at 1:00pm. The family will receive friends from 12:00pm until the time of the service. In lieu of flowers, donations can be made to Adams County SPCA, 11 Goldenville Rd, Gettysburg, PA 17325 and to St. John's Lutheran Church, 13 E. Main St, Fairfield, PA 17320.
Read More
Previous Events
Visitation
St. John Lutheran Church
13 E. Main St.
Fairfield, PA 17320
Service
St. John Lutheran Church
13 E. Main St.
Fairfield, PA 17320