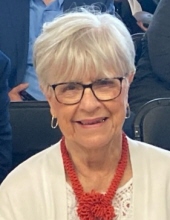 Obituary for Jeanne Crosby
Jeanne Crosby, 77, of Gettysburg, PA passed away Wednesday evening, December 21, 2022.
She was born September 30, 1945 in Giessen, Germany, the daughter of the late John and Maria Pawlicha, who had both fled their native Ukraine during World War II. Jeanne is survived by her husband, Alfred R. Crosby.
Jeanne was the heart of her family. Devoted wife, caring mom, and full-of-love grandmother, she opened her arms and home to everyone. Jeanne thrived on entertaining family, friends, and neighbors anytime of the year. Polka music and dancing were essential! With Al, she owned and operated Hattree Inn Bed and Breakfast in Milford, PA for many years. Jeanne enjoyed watching Westerns, General Hospital, and lots of football.
In addition to her husband, Jeanne is survived by three children Deborah Bellantoni and her husband Charles of Gorham, Maine; Susan Cann and her husband Jeff of Gettysburg; Alfred J. Crosby and his wife Kerry of Amherst, MA; and seven grandchildren Benjamin Bellantoni, Matthew Bellantoni, Sophie Cann, Eli Cann, Kyle Crosby, Jill Crosby, and Drew Crosby. She is also survived by her brother Bohdan Pawlicha of Port Jervis, NY, and sister Zorianna Grosso of Port Jervis, NY.
Jeanne was a member of St. Francis Xavier Catholic Church. A Memorial Funeral Mass will be celebrated there on Wednesday, December 28, 2022 at 11:00 a.m. Interment will be at St. Mary's Cemetery in Port Jervis at a later date. In lieu of flowers, memorials may be made to the Gettysburg Salvation Army or the Rotary Club of Gettysburg.
Read More
Previous Events
Service
St. Francis Xavier Catholic Church
25 West High Street
Gettyburg, PA 17325