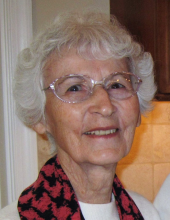 Obituary for Jeannette (Jan) Konopka
Jeannette (Jan) Rosa Konopka, age 91, passed away on September 24, 2022, at her home in Lake Heritage, Gettysburg.

She was born on April 1, 1931, in Philadelphia, PA, the daughter of the late Matthew and Josephine Marcella Rosa.
Jan was preceded in death by her beloved husband of 71 years, Anthony (Tony) Konopka, and by sisters Louise Goodman, Lena Goodman, and Anita Butts. Jan is survived by her two daughters, Nancy Konopka & her husband Robert Keefer, Amy Alapati & her husband Nanda Alapati; four grandchildren, Sara Keefer (Nick Zerbo), Veronica Keefer-Germani (Nick Germani), Sophia Alapati, Tobias Alapati; a great-granddaughter, Juniper Germani; her sisters Evelyn Cross and Joanne Schaffer (Tom Schaffer), her brother Matthew Rosa II (Ginny Rosa), and many nieces and nephews.
Jan graduated from Germantown High School, and studied at Germantown Hospital in Philadelphia to become an X-ray technician. Jan and Tony met there while working as technicians. During her eight years at Germantown she endeared herself to many of her radiation therapy patients. She left the workforce to become a homemaker while raising her daughters in Oreland, PA. She was a Girl Scout leader and church volunteer for many years. When her daughters were grown, Jan rejoined the workforce preparing food at An Italian Market in Glenside, PA
Among Jan's pleasures were gardening, ironing, walking in the snow, staying organized, cooking for family, reciting nursery rhymes and engaging children in play even when it meant sitting down on the floor with them. She enjoyed feeling the textures of fabrics, looking at women's costumes in old movies, listening to Frank Sinatra records and perusing the world atlas. She treasured spending time with and hearing about her large extended family.
Knowing the impossibility of summing up 91 years of life, following are some highlights: Jan taught her children and grandchildren to sew and to mend, plant and transplant, ice skate and sled (even in the dark), listen without judgement, provide food at every gathering (large and small), have a plan for life's events, and manage the unexpected with aplomb. Her family knew from her example that homemaking is an honorable profession and an art to be perfected.
A Memorial Mass will be celebrated at the Historic Church of St. Francis Xavier Catholic Church, Gettysburg, PA, on Monday, November 14, 2022, at 11 AM. In the hour preceding the Mass, the family will receive friends and family at the Historic Church. In lieu of flowers, memorial donations may be made to the Adams County Library (please specify for Children's Fiction in memory of Jan Konopka at the Gettysburg Branch), https://www.adamslibrary.org/memorials-honor-books. Online obituary and condolences available at https://www.monahanfuneralhome.com/.
Read More
Previous Events
Service
St. Francis Xavier Catholic Church
25 West High Street
Gettyburg, PA 17325