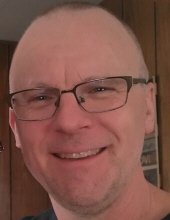 Obituary for Jeffrey "Stan" Slote
Jeffrey Stanton "Stan" Slote, 56, of Gettysburg, PA died unexpectedly on July 13, 2021, from injuries sustained from a fall at his home.
Stan was the loving husband of Tamara Klader Slote. He was born on January 28, 1965, to Linda K. and Jeffrey L. Slote of Mount Joy, Pa. Stan graduated from Ephrata High School in 1983. He currently worked at Wellspan Gettysburg Hospital in the Supply Chain Department. Stan was well liked by his co-workers and loved his job and the people with whom he worked. He enjoyed visiting wineries, cooking on the grill and home improvement projects.
Stan will be dearly missed by all his family and friends. In addition to his wife and parents, he is survived by his brother, Jeffrey John Slote, husband of Marcia, of Billerica, MA; three nieces, Emily Slote, Westfield, MA, Marissa Weiner, Fitzwilliam, NH and Caitlin Weiner, Fitchburg, MA. He is also survived by his aunt, Bonnie L. Herzog, Ephrata, PA and his aunt and uncle, Stella and Phillip Jacobs, Endwell, NY. He will be deeply missed by his parents-in-law, Ronald and Dianne Crills, Ephrata, PA, and all of his sisters-in-law, brothers-in-law, and his nephew, Corey.
Services, being handled by the Monahan Funeral Home. A private Memorial Service will be held on Saturday, August 14, 2021 in Lancaster County, PA. Online condolences may be made at monahanfuneralhome.com. In lieu of flowers, those who so desire may make memorial donations in memory of Stan to the American Cancer Society, 314 Good Dr., Lancaster, PA 17603.