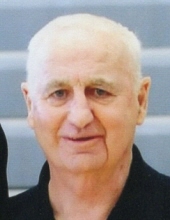 Obituary for John "Jack" McLatchy
John "Jack" McLatchy

Beloved Husband, Father, Friend and Coach September 6, 1936 - December 3, 2018

The family of John "Jack" McLatchy is saddened to announce his passing on December 3, 2018 at his daughter's house in Chambersburg, Pennsylvania surrounded by family. Jack was born on September 6, 1936 in Stoneham, Massachusetts. His parents Edmund McLatchy Sr. and Annie McLatchy (Arthur) of Roslyn, Pennsylvania preceded him in death. Also preceding his death were his brothers Edmund McLatchy Jr. of Glenside, Pennsylvania and Roy McLatchy of Orange Park, Florida, and his sister Edythe Aungst (McLatchy) of Roslyn, Pennsylvania.

Jack had a long and distinguished career in sports that spanned over seventy years starting out in the Roslyn Boys and Girls Club playing basketball and baseball. He played throughout high school before joining the Marines in 1955. While in the Marines he rose to the rank of Corporal. He was recognized to the All Far East Marine all-star baseball team. He also coached his baseball team to win the Pacific Inter-Island Championship. In 1957, he left the Marines and returned to Roslyn, PA where he met Mary "Ginny" King who became his wife. He attended West Chester University where he played basketball and baseball. Jack left West Chester to attend Cheyney State where he played basketball and broke the color barrier. He relocated to Westminster, Maryland where he coached St. Johns Youth Basketball Team to a record of 20-2. He was also a Manager for the Carrol County Chargers and played basketball in the Carrol County Industrial League where his teams were undefeated, during which he established himself as one of the dirtiest players, earning the nicknames "Dirty Elbows" and "The Silver Bullet," and anyone who played with him would agree. Returning to Pennsylvania he settled in Littlestown where he played for the Harney A's. Although baseball was his passion, his biggest joy was becoming an Assistant Coach under the legendary coach Jim Phelan at Mount Saint Mary's College from 1990-2003. He met a lot of talented and good young men who he helped to define their skills and gave them advice for off the court. Jack continued to follow the Mount and provide his expertise long after he retired. He also coached at Gettysburg College where he would also play at noontime in the "NBA" with a great group of guys.

Jack was an avid supporter of the local community, helping the Adams County Homeless Shelter by putting on a basketball tournament and selling tie-dye tee shirts. He also arranged to have furniture donated as well.

Jack is survived by his wife "Ginny" of Littlestown, Pennsylvania, his daughter Sherry McLatchy of Chambersburg, Pennsylvania, daughter in-law Catherine McLatchy (Crist) of Wilmington, North Carolina, and his son Timothy "Tim" and his wife Johanna McLatchy (Baker) of Annandale, Virginia, twelve grandchildren and two great grandchildren and his younger sister Ann McLatchy of Roslyn, Pennsylvania. His beloved sons Kevin and John McLatchy preceded him in their death. We will remember Jack for his warm smile, love of sports, extreme couponing and his warped sense of humor. He will be greatly missed.

A memorial service in Jack's honor will be held December 15, 2018 at Mount St. Mary's University's auxiliary gym in Knott Arena from 12 -1:30 pm. The family invites all attendees to follow in the Mounties Club House following the memorial. The family requests attendees wear Mount; Gettysburg College apparel or casual dress. Online obituary and condolences available at monahanfuneralhome.com.
Read More