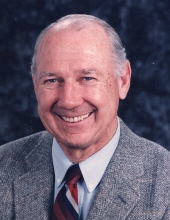 Obituary for John W. "Jack" Phillips
John W. "Jack" Phillips, age 88, of the Borough of Gettysburg, died on Saturday, August 18, 2018. Jack, born in Connellsville, Pennsylvania, on October 19, 1929, was the son of the late E. Stanley Phillips and Carolyn T. Phillips. Jack is survived by his wife of 58 years, Bobbie E. Phillips; his son, John S. Phillips and wife Kimberly L. Phillips of Gettysburg, PA; and his daughter, Norma Jean Byrd and husband Douglas E. Byrd of Abbottstown, PA, and two grandchildren; Brennan C. Phillips of Mystic, CT, and Rose Elizabeth Reed of Littlestown, PA. Jack is also survived by a sister, Susanne Crowe and husband Patrick Crowe of Honolulu, HI; a brother, Thomas S. Phillips of St. Augustine, FL; and was predeceased by his brother William R. Phillips of East Brunswick, NJ, in 2017.

Jack attended Connellsville High School; graduated from Muhlenberg College, Allentown, PA, with a B.A. degree; and Dickinson School of Law, Carlisle, PA, with a B.L. degree. He attended Oxford University during the 1954-55 school year on a Rotary International Fellowship. Jack joined the U.S. Navy in 1955 and trained for and qualified as a carrier pilot. Following his honorable discharged in 1959, Jack was employed as in-house counsel for PP&L in Allentown, PA. In September of 1970 he was admitted to the Adams County Bar and practiced law in Adams County ever since, most recently in partnership with his son.

Jack has served as a director and past president of the Adams County Chamber of Commerce, a director and past president of the Adams County Shrine Club, a member and director of the former Gettysburg Country Club and past president of the Adams County Bar Association. He has been a member of the Gettysburg Rotary Club since 1972.

Of his community service, Jack was most proud of his role as Founder and Director Emeritus of the Adams County Community Foundation. From a meager startup fund of $4,000.00 in 1986, the Community Foundation now has an endowment of over $14,000,000.00.

The family will receive friends on Wednesday, August 22, 2018 at Monahan Funeral Home, Gettysburg from 4:00 PM until 6:00 PM. Contributions in memory of Jack will be gratefully received by sending a donation to the Adams County Community Foundation, 25 South Fourth Street, Gettysburg, PA 17325.
Read More
Previous Events
Visitation
Monahan Funeral Home
125 Carlisle Street
Gettysburg, PA 17325