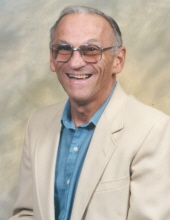 Obituary for Joseph M. Gillitzer, Sr.
Joseph M. Gillitzer, Sr., 82, of Gettysburg, PA died Sunday morning, May 22, 2016 at his home.
Born November 7, 1933 in Buffalo, NY he was the son of the late Martin and Mary (Kleber) Gillitzer. He was the husband of Linda L. (Gardner) Gillitzer of Gettysburg to whom he was married to for 50 years.
Mr. Gillitzer was a member and served as Eucharistic minister at St. Francis Xavier Catholic Church, Gettysburg. He worked for Union Electric in Baltimore for 25 years before moving to Gettysburg and then working for the Gettysburg Hospital for 25 years. He was also active with the St. Francis Boy Scout Troop #78 for over 20 years and was the 1st recipient of the Doc Riley Award for scoutmaster who is willing to go above and beyond what is asked of him.
In addition to his wife, Joe is survived by his two children, Joan G. Chapman and her fiancé Kevin Johnson, of Gettysburg, PA, Joseph "Jay" M. Gillitzer and his wife Jana Swartz, of Fairfield, PA, and his four grandchildren, Zachary C. Chapman, Andrew L. Chapman, Cameryn Swartz, and Aubrey M. Gillitzer.
Funeral services being handled by the Monahan Funeral Home, Gettysburg will be private and at the convenience of the family. Online condolences may be made at monahanfuneralhome.com.
Memorial contributions may be made to St. Francis Xavier Catholic Church, 455 Table Rock Rd., Gettysburg, PA 17325, Boy Scout Troop #78 c/o St. Francis at the same address, or to Compassionate Care Hospice, 1513 Cedar Cliff Dr., Suite 100, Camp Hill, PA 17011.