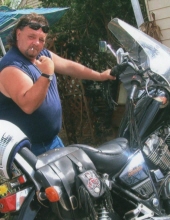 Obituary for Joseph S. Hill
Joseph S. Hill, 69, of Gettysburg, PA died Monday afternoon, May 25, 2020 at the Gettysburg Hospital.
Born April 1, 1951 in Washington, DC, he was the son of the late Cloyd and Sophia (Nebelski) Hill. He was the husband of Cathy (Kump) Andujar, of Gettysburg, PA to whom he was married for 28 years.
Mr. Hill worked as an auto mechanic at a number of dealerships in the area including H&H and Knox Cadillac. He also worked for a time at the Gettysburg Visitor's Center. He enjoyed working on cars, camping with his family, three wheeling, riding his motorcycle, Sunday morning flea markets, and trips to Skyline Drive.
In addition to his wife, Joe is survived by his four children, Lindsey Hill, of Gettysburg, Joe Hill, of Gettysburg, Missy Shank, of Fairfield, Jamie Mellinger, of Gettysburg, his 11 grandchildren, Colton "Ollie" Conaway, Taylor Mellinger, David Forbes, Zach Hill, Meagan Hill, Amanda Hill, Ashley Gamboa, Nate Shank, Sam Shank, Sally Shank, George Powell, six great grandchildren, Maximus Hill, Alex Hill, Sawyer Hartzell, Fletcher Hartzell, Ethan Thorne, Rainah Forbes, his five sisters, Sylvia Luckenbaugh, of Gettysburg, Mary Codori, of Rockville, MD, Evelyn Mickley, of Gettysburg, and Sandy Snyder, of Gettysburg, and Sonya Colista, of Gettysburg, and a number of nieces and nephews. He was preceded in death by his brother, Cloyd Hill, Jr.
The family is planning on having a memorial service for Joe when the COVID-19 restrictions have been lifted, the Monahan Funeral Home is in charge of the funeral arrangements. Online condolences may be made at monahanfuneralhome.com.
Read More