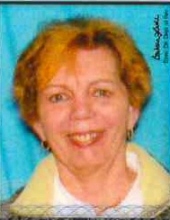 Obituary for Judith "Judy" Lea Mielke-Peterson
Judith "Judy" Lea Mielke-Peterson, 72, passed away on Saturday, March 26, 2022 at the Gettysburg Hospital.

She was born June 21, 1949 in Milwaukee, Wisconsin the daughter of Jack and Shirley Reiter. Judith is survived by many family members and friends who will miss her dearly.

Judy attended Marquette University where she then went on to work in the hospitality industry. She worked as a hotel manager and specialized in the sales and marketing divisions where she enjoyed her work very much. In Judy's spare time she could be found playing a round of golf and loving on her dogs. She spent a lot of time in Colorado and Pennsylvania making many friends along the way including Danny Edwards in Gettysburg.

An interment will take place at a later date in the mountains of North Carolina. In lieu of flowers, donations can be made in Judy's memory to the Adams County SPCA, 11 Goldenville Road, Gettysburg, PA 17325.
Read More