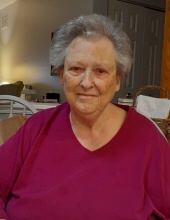 Obituary for Judy Lynn F. Woolston
Judy Lynn F. Woolston, 81, of Gettysburg, PA died Sunday, July 11, 2021 at MedStar Hospital in Washington, DC.
Born March 21, 1940 in Plainfield, NJ, she was the daughter of the late William and Olive (Grant) Fickes. She was the wife of William W. Woolston, III, of Gettysburg, PA to whom she was married for 58 years.
Mrs. Woolston was a retired school teacher, teaching in Baltimore County Elementary Schools for many years. She was also the nursery school director at Pleasant Hill Nursery School in Reisterstown, MD.
In addition to her husband, Judy is survived by her two sons, Robert Woolston and his wife Amanda, of Littlestown, PA, David Woolston and his wife Dawn, of Stephens City, VA, five grandchildren, Cory Woolston, Stephanie Woolston, Kaleb Woolston, Brittany Few, Tyler Few, and her sister, Susan Adler, of Monkton, MD.
A memorial service will be held at a future time to be published in a later edition of the paper. The Monahan Funeral Home is in charge of the funeral arrangements and online condolences may be made at monahanfuneralhome.com.
Read More