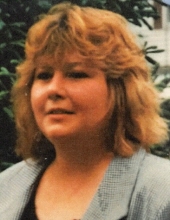 Obituary for Judy (Strausbaugh) Elburn
Judy (Strausbaugh) Elburn, 50, of Gettysburg, PA died Tuesday morning, April 30, 2019 at Transitions Healthcare, Gettysburg, PA.

Born December 1, 1968 in Gettysburg, PA she was the daughter of Sylvia (Hill) Luckenbaugh and her husband Robert, of Gettysburg and the late Andrew Strausbaugh. She is survived by her husband Charles Elburn, her daughter, Tasha Grafton, her sister, Anita Morgan, and her brother, Andrew Strausbaugh, all of Gettysburg, PA.

Judy had a wonderful sense of humor and a larger than life personality. Her beautiful, bright, vibrant energy touched everyone she came into contact with.
Some of her favorite things to do included caring for her animals, listening to her favorite music as she sang along, and cooking. Judy loved her family very much, or as she would always say, "more than life itself."

Funeral services, being handled by the Monahan Funeral Home, are incomplete at this time. Service information will be published in a future edition of the Gettysburg Times. Online condolences may be made at monahanfuneralhome.com.
Read More