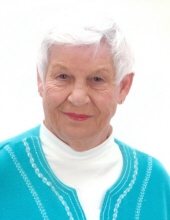 Obituary for Justine Helen Classen
Justine Helen Haug Classen, 92, died in her Gettysburg home September 22, 2016.

Born in St. Louis, MO, she was the daughter of Francis and Helen Haug. Her husband of 59 years, Edwin, died September 11, 2006.

She attended Ursuline Academy and St. Louis University. She worked in the Research and Development Department of Monsanto Chemical Company as part of the start up of Agricultural Engineering and was very proud of her knowledge of the making of the chemicals that became Agent Orange. She would reminds us that it was never meant to be broadcast by air. Over the years, her husband's job moved the family to Alabama, South Carolina, Cincinnati, and finally York, PA. In York she was grateful to have many friends through her love of tennis and books. She was a volunteer for the children's tennis camp at Farquhar Park. She was very proud to say she played competitive tennis until age 80 and won several medals at the Senior Olympics. She was also the oldest and longest serving volunteer at her cherished local library, The Village Library, in Jacobus. People frequently requested her opinion on what to read next. She greatly enjoyed the camaraderie at the Country Club of York, especially the widows' dinner on Friday nights. All that changed abruptly in 2014 when she broke her leg which resulted in her moving to Gettysburg to a condo very close to her daughter. A new routine developed there and she was quite happy and content watching Fox News and the Tennis Channel on her big screen TV; doing crossword puzzles; and making her grocery list for her weekly Giant outing. She always expressed her appreciation for her health specifically "her wits, her 20/20 eyesight, and her good hearing". She would be the first to tell you the secret to longevity was a five o'clock cocktail and a long term goal. Hers was to outlive her favorite grandfather Gottleib who lived to be 97. Sadly that did not come to pass, but her determination fueled that independent spirit.

She leaves behind her daughter Dr. Carolyn Classen and husband Dr. Mark Resciniti; son, Dr. James Classen and wife Dianne. She was predeceased by her son Dr. Paul Classen and her granddaughter Michelle Classen. Her grandchildren include Emily and Andrea Resciniti, Jennifer Stager, Christopher Classen, James Classen, Caitlin Classen, Suzanne Schubert; great grandchildren, Leighton, Emory, Graham, Avery and Twila. She also leaves behind daughter in laws Linda Classen and Debbie Classen. The family wishes to thank Pam Dalrymple for her devoted weekly visits to bring Justine Holy Communion and companionship.

In lieu of flowers if a donation is wished to be made in Justine's memory, please consider the Village Library, 35 N. Main St. #C, Jabobus, PA 17407 or St. Francis Xavier Catholic Church, 415 Table Rock Rd., Gettysburg, PA 17325.
Read More