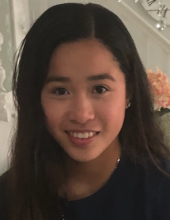 Obituary for Kalina Lynnea Hart
Kalina Lynnea Hart passed and entered into Heaven on March 8th, 2020. She was born on January 26th, 2006 and was the loving daughter of Paul and Monica Hart of Gettysburg, Pennsylvania. She loved sports and music and was an excellent athlete and musician, playing basketball, the piano, and the violin. She was also an honors student at Gettysburg Area Middle School and particularly loved math. She loved the outdoors and spent her summers wakeboarding and skiing with her family. Kalina was a wonderful daughter, the best little sister, a great friend, and a devoted care-taker for her two dogs, Teddy and Callie.
Kalina is survived by her parents, Paul and Monica, her brothers Kyle and Corey, and their spouses Cheyenne and Brittany. A private service will be held by her family. In lieu of flowers, her family asks that any donations be made to the Adams County SPCA to honor her love for animals.
Read More