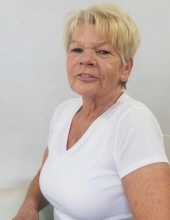 Obituary for Linda C. Swartz
Linda C. Swartz, 72, of Littlestown, PA passed away on Thursday, September 1, 2022 at her home.
Born October 7, 1949 in Cumberland, MD to the late Robert Smith and Esther (Jarvis) Smith.
Linda is preceded in death by her husband, Thomas Charles Swartz, her daughter, Tammy Groves, her grandson Jimmy Sheridan, her brother, Butch Smith, her sisters Carol Smith, and Charlotte Hubbard.
Linda is survived by her daughters, Linda Witt of Blairsville, PA, Patty Stump, of Latrobe, PA, Brenda Groves, Holli Swartz, Ruthann Swartz, all of Cumberland, MD, her sisters Joan Thompson, Ester Linder, Sheryl Flanagan, Charleen Miller, and 22 grandchildren and great-grandchildren.
Linda attended Allegheny College where she received her CNA and Med Certificate and enjoyed her career very much. Linda loved spending time with her family and will be deeply missed. She also loved spending time with her friend, Richard Bigham, whom she loved dearly, they would go on bus tours together and enjoyed gardening. Linda also loved going to the casino with her daughters and playing bingo. She loved all 22 of her grandchildren, great grandchildren, and her beloved dog, Lucky.
Read More