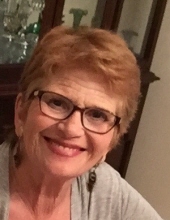 Obituary for Linda R. Jorgensen
Linda R. Jorgensen, 71, 125 Ridgewood Drive, Gettysburg, PA passed away peacefully Wednesday, March 28, 2018 at the Gettysburg Hospital.


Linda was born November 5, 1946 in Butler, PA, the daughter of the late Victor and Anne Brooks Roselli. Linda is survived by her husband, COL Michael R. Jorgensen, US Army Ret.; three sons, Michael R. Jorgensen, Jr. and his wife Debby of Hagerstown, MD, David S. Jorgensen and his wife Maureen of Warrenton, VA, LTC Brent M. Jorgensen and his wife Julie of Lithia, FL; daughter, Sandra L. Macadoff of Laurel, MD; 17 grandchildren; 3 great grandchildren; sister, Joan M. Roselli, of Aspers, PA; brother, Victor Roselli and his wife Barbara of Plano, Texas; and a number of cousins, nephews, and nieces.


Linda was a 1964 graduate of Butler Area High School. She served in the US Army from 1965 until 1968 as a personnel specialist. Over the next few decades, Linda continued to serve her country in the federal service for Department of Defense and Department of State, while simultaneously raising her family over multiple locations in the U.S. and Korea, going wherever her husband Mike was stationed. After retiring to Gettysburg, Linda became involved with the Friends of the Adams County Library, the Women's Club of Gettysburg, serving two terms on the executive board as Historian Parliamentarian, and the Ridgewood Ladies group. She loved to travel, was an avid reader, and created scrapbooks documenting family events.


Funeral services will take place at a later date at Arlington National Cemetery. In lieu of flowers, donations can be made to Survivors of Gettysburg, PO Box 3572, Gettysburg, PA 17325 or Friends of the Library, Adams County Library, 140 Baltimore Street, Gettysburg, PA 17325. Online obituary and condolences available at monahanfuneralhome.com.