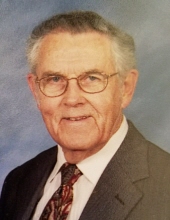 Obituary for Lloyd Calvin Dye
Lloyd Calvin Dye, 92, Gettysburg, PA died Friday, February 14, 2020 at Gettysburg Center.

He was born March 30, 1927 at Columbia Hospital for Women in Washington, DC the son of the late Edgar and Frances Welch Dye. He spent his childhood attending school, playing with his older brother Hiram (Edgar Haram Dye) and helping his parents around the house. As a young teenager he began the art of gardening, wood working, and photography from the local youth programs. Lloyd even set up a make shift dark room in their house where he successfully developed the pictures that he took.

Lloyd graduated from Eastern High School in Washington, DC where he became involved with the school's tract team. He very successfully ran multiple events including the hurdles and lettered each year. After high school he joined the Navy in which he received an early honorable discharge as World War II had just ended and the Korean conflict had not begun.

After returning home, Lloyd graduated from Catholic University with a bachelor's degree in architecture. He ultimately favored a career with the Department of the Navy as a structural engineer designing bulkheads and support trusses for the Naval Destroyer fleet. Oddly enough, he spent more time on ships during his career than his service in the Navy.

Lloyd met the love of his life at Epworth Methodist Church in Washington, DC where both families attended and on December 27, 1950 they married at the home that Joyce's father built in Kensington, MD. This was a marriage that lasted 69 years. It was in this home they raised their family, Lawrence William (born December of 1954) and Susan Marie (born May of 1958). It was here that his love of gardening and wood working truly blossomed. Not only did he have a wide variety of vegetables and beautiful landscape plantings, but he would compete in the annual Dahlia Society flower shows in the Baltimore/Washington area during the fall.

Joyce and Lloyd moved to Gettysburg, PA where they have enjoyed their friends and Lake Heritage for almost 35 years. As they have done in the past, they loved volunteering at the church, helping others, and working with Meals on Wheels.

Lloyd is survived by his loving wife Joyce Y. Dye, his son Lawrence Dye and his wife Virginia of Largo MD, two grandchildren; Jacob Dye, Rachel Bartley, and a son-in-law, Robert Buck Bartley.

Lloyd was predeceased by a daughter, Susan Marie Bartley on January 22, 2020.

A Memorial Service will be held at the Gettysburg United Methodist Church, High Street, Gettysburg on Saturday, February 22, 2020 at 11:00 AM with Rev. Rick Smith officiating. In lieu of flowers memorials can be made to a favorite charity. Online obituary and condolences available at monahanfuneralhome.com.
Read More
Previous Events
Service
Gettysburg United Methodist Church
30 West High Street
Gettysburg, PA 17325