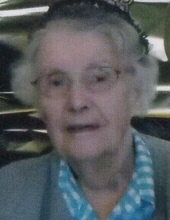 Obituary for Louise (Deardorff) Kane
Louise (Deardorff) Kane, 92, of Cashtown, PA died Thursday afternoon, April 25, 2019 at SpiriTrust Lutheran Home, Gettysburg, PA.
Born November 15, 1926 in Adams County, PA she was the daughter of the late Howard and Beulah (Allison) Deardorff. She was the wife of Richard J. Kane, of Cashtown to whom she was married to for 71 years.
Mrs. Kane was a member of Flohr's Lutheran Church, McKnightstown, PA. She worked as a banker teller at the Adams County National Bank in Cashtown for 18 years.
In addition to her husband Louise is survived by her two sons, Larry R. Kane and his wife Kay, of Chambersburg, PA, James M. Kane and his wife Doris, of Biglerville, PA, three grandchildren, Neil Kane, Chrstina Pritt and her husband T.J., Zackery Kane and his wife Stacey, four great grandchildren, Corbyn Pritt, Carter Pritt, Ceana Pritt, Sawyer Kane, and her sister, Darlene Kane. She was preceded in death by her sister, Marvel Woerner
Funeral services, being handled by the Monahan Funeral Home, will be private and at the convenience of the family. Online condolences may be made at monahanfuneralhome.com.
Read More