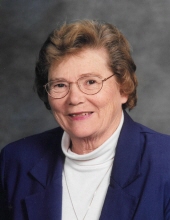 Obituary for Lucy Woodford Wirsul
Lucy Woodford Wirsul, 91, died March 2, 2022. Born May 24, 1930 in Hartford, daughter of the late Harold and Gertrude Morey Woodford, she was a lifelong Bloomfield resident. She was predeceased by her husband of 45 years, Walter C. Wirsul; they were both 1948 graduates of Bloomfield High School. She is survived by three children: Nancy Kramer (Kurt) of Gettysburg, PA; Robert Wirsul (Beth) of Andover, VT; and James Wirsul of Bloomfield; a sister, Esther Olson of Cromwell, CT; two grandchildren, Jacqueline Kramer (Eric Bohnenblust) of Leesburg, VA; and Andrew Kramer (Emily) of Millburn, NJ; also four great grandchildren, Charlotte and Hunter, Matthew and Adam.

She graduated from the University of Connecticut in 1952 in one of its first early childhood education majors. She was a member of the Home Economics Honor Society and Pi Beta Phi sorority. Later she earned a master of education degree from the University of Hartford in 1984. She taught at J. P. Vincent School for four years then opened her own nursery school day camp for 18 summers on the Woodford family farm. As a member of Bloomfield's First Congregational Church she founded the church's nursery school in 1960 and served as its director and head teacher for 29 years. The program grew from part time morning sessions into a full day child development center. Over the years she taught thousands of children and positively influenced their families.

She served in many volunteer roles including the church's building and pastoral search committees, deacon, Christian education director, Sunday school teacher and youth group leader. She also volunteered in leadership roles for the Boy Scouts and Girl Scouts, and was a

director of the Mountain View Cemetery. She was a member of the Wintonbury Historical Society and served as the president of the Latimer Hill Cemetery Association. She authored or co-authored several historical texts, including "The History of Latimer Hill Cemetery," and "Images of America, Bloomfield."

A service of celebration for Lucy's life will be held on Saturday, August 27 at 3pm at the First Congregational Church, 10 Wintonbury Ave., Bloomfield, CT 06002. In lieu of flowers donations in Lucy's memory may be made to: Bloomfield Congregational Child Development Center at the above address.
Read More