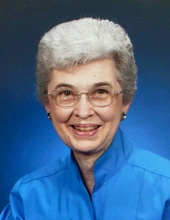 Obituary for "Peggy"
Margaret "Peggy" Louise Maitland Weikel, 90, passed away peacefully on the morning of Thursday, August 26, 2021 while in hospice care at her daughter and son-in-law's home in Gettysburg. She was born September 15, 1930 in Williamsport, PA the daughter of the late Isaac William and Margaret Lula Wolfe Maitland. Her husband, Dr. Dexter N. Weikel died in 2018.

Peggy graduated from Williamsport High School in 1948 and began a career as an operator with the Bell Telephone Company. She was promoted to a supervisory position where she directed an all-male crew to install new lines and place public access phones throughout the city. Her career enabled her to put her sister, Barbara, through nursing school, and later provide the down payment on her and Dexter's first house.

Her introduction to Dexter and their 61-year marriage began when he visited her parents' home to recruit them to sing in his church choir at Messiah Lutheran Church in South Williamsport. She and her parents did join the choir and the couple courted for a number of years before marrying in May of 1957. Their only daughter, Megan, was born in 1958.

In 1962 the family moved to Gettysburg when Dexter joined the Music Department at Gettysburg College. His sabbatical in 1969 at half-salary launched Peggy's long career with the Adams County Public Library System. She was employed at the Gettysburg branch for over 40 years and retired in 2014 at age 84.

The Weikels thoroughly enjoyed travel. In addition to trips across the States, they relished foreign adventure which was sparked by a whirlwind European tour with the Gettysburg College Choir in the early 1960s. Later favorites included extended periods with friends in London, and a Johns Hopkins alumni tour of the Dalmatian Coast.

Peggy had versatile talents. While with the Bell Company she wrote articles for a publication designed to market new telephone technologies to the public. She played the piano, and composed whimsical children's songs for her daughter. Her unfulfilled desire to study fashion design in New York was somewhat assuaged by the clothing she designed and crafted for Megan's paper dolls. She was also an avid reader who shared her love of the transportive power of a story with members of the Friday Afternoon Literary Club. Lists kept of the fiction and history books she devoured reveal approximately 45 per year, even while she worked full-time.

She is survived by her daughter and son-in-law, Megan Weikel and Eddie Rankin; grandchildren, Laurel and Devon Rankin; nieces, Cindy Heinrichs and Melissa Platzer; nephews, Mark and Scott Bohr, and David Weikel; Brothers-in-law, Gail Weikel and Harper Bohr; one grandson, Ishaan Patel Rankin; and their extended families. Her sister, Barbara Ann Bohr predeceased her in 2019.

Two gatherings are scheduled to remember and celebrate Peggy's life. On Thursday, September 9, from 5pm to 7pm Monahan Funeral Home, 125 Carlisle Street, in Gettysburg hosts a family visitation. The funeral will be held at 2pm, Saturday, September 11 at Christ Lutheran Church in Gettysburg. The family appreciates masks to be worn at both.

In lieu of flowers memorials can be made to the Adams County Public Library System, 140 Baltimore Street, Gettysburg, PA 17325, or to the Dexter and Peggy Weikel Music Ministry Fund at Christ Lutheran Church, 35 Chambersburg Street, Gettysburg, PA 17325.
Read More
Previous Events
Visitation
Monahan Funeral Home
125 Carlisle Street
Gettysburg, PA 17325
Service
Christ Lutheran Church
30 Chambersburg Street
Gettysburg, PA 17325