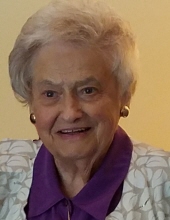 Obituary for Marian Jean Meyer Sneeringer
MARIAN JEAN MEYER SNEERINGER (age 96), formerly of Gettysburg, Pennsylvania, passed away Friday, August 10, 2018, peacefully and surrounded by family after a brief illness at her home in Columbia, Maryland.

Marian was born June 23, 1922, in Joliet, Illinois, the daughter of Albert, Sr. and Irene Meyer. She was married to Deacon James G. Sneeringer, Sr. for 66 years prior to Deacon Jim's passing in February 2011.

As a young woman in Joliet, Marian completed her associate degree at Joliet Junior College. She became a war-time weather observer for the U.S. Weather Bureau at the Joliet Airport. In 1945, she and her other female colleagues were featured in the local supplement under the heading, "Mad at the Weatherman? If You Are, Don't Cuss Him Out – He May Be a Pretty Girl." In addition to the notoriety, she received two marriage proposals!

But, the marriage proposals were too late. Marian had met Jim in 1943 while he was stationed near Joliet as an Army officer. They married in 1944 and lived in a variety of places as Jim was transferred within the Army, with her favorite being Riverside, California. In 1946, they moved to Gettysburg to re-join Jim's family and start a family of their own. At Gettysburg, Marian and Jim were blessed with strong friendships established through their involvement in the Catholic church, community organizations, charity work, and fun activities.

Marian was a convert to Catholicism at the time of her wedding. She was an active member of St. Francis Xavier Church and served the Church at the local, diocesan and national levels. At St. Francis Xavier, she held numerous leadership and advisory positions and valued immensely her regular Bible Study group. She also was elected to a series of leadership positions in the Diocesan Council of Catholic Women, rising to Province Director on the National Council of Catholic Women. She participated extensively in helping Jim prepare for the Diaconate Program, and rejoiced when he was ordained by Bishop Keeler in 1983. She remained a close friend and advisor of Cardinal Keeler until his recent death. In 1984, Pope John Paul II recognized her devoted efforts by bestowing the papal honor of the Benemerenti Medal, the lay equivalent to the ordained status of a Monsignor.
Marian was also a strong supporter of Girl Scouts, rising through local scouting organizations to national leadership positions on the National Catholic Committee for Girl Scouts and Campfire for the National Federation for Catholic Youth Ministry. She is a recipient of the St. Elizabeth Ann Seton and St. Anne Girl Scout Awards for serving Catholic youth through girl scouting.

Marian contributed heavily to community programs including chairing the Gettysburg Meals-on-Wheels program from 1981-1999 when the program was first introduced. She was Past President of AARP #1265 and a member of the Friends of the Library and Gettysburg Community Concert Association. She was a volunteer for Adams County Office of Aging, serving on the Board for 6 years and on the Advisory Council.

In September 2013, Marian moved to Columbia, Maryland to be near some of her children, living at Vantage House, a continuing care retirement community, where she continued to be active with community and church. She also continued her life-long love of Bible study and playing bridge.

Marian once called herself "a perpetual volunteer" and lauded volunteering as having given her "a wonderful life". She stated, "Volunteering is not for the birds, volunteering is making things happen and liking the people you work with to make it happen. … Each little group I joined led me to bigger and more challenging experiences and a lot of travelling all over the U.S. and Europe." Those experiences, including participating in Congressional hearings, broadened her world which she readily shared with her family, motivating their own lives of service.

Above all else, Marian was a devoted homemaker and loving matriarch of the huge family that she and Jim started. Her children honored her with the title "The Queen," which also humorously invoked her increasing resemblance to Queen Elizabeth II in her later years.

She is pre-deceased by her parents, her brother Albert Meyer, Jr., husband Jim, and son James G. Sneeringer, Jr. She is survived by five children: Thomas M. Sneeringer (Deborah Fox) of Washington, DC, Katherine "Kay" McStay (P. Andrew McStay, Sr.) of Houston, TX, Dr. Mark A. Sneeringer (Margaret Sneeringer) of Seattle, WA, Dr. Mary Ann Pudimat (Dr. Paul A. Pudimat) of Salem, CT, and Jean Sedlacko (Stephen Sedlacko) of Ellicott City, MD. She is also survived by 20 grandchildren, 18 great-grandchildren and many devoted cousins in the Meyer, Williams, and Morgan families in Illinois who all loved her dearly. Her life has been an inspiration to her children, grandchildren and great-grandchildren.

A Memorial Mass will be celebrated at St. Francis Xavier Catholic Church, 25 West High Street, Gettysburg, PA at 11 am on Thursday, August 16, 2018, preceded by a viewing starting at 10 am at St. Francis Xavier. In addition, a viewing will be held at Monahan Funeral Home, 125 Carlisle St., Gettysburg, PA from 6 pm – 8 pm on Wednesday, August 15, 2018.
In lieu of flowers, contributions can be made to St. Francis Xavier Catholic Church, Parish Office, 455 Table Rock Road, Gettysburg, PA 17325. Online obituary and condolences available at monahanfuneralhome.com.
Read More
Previous Events
Visitation
Monahan Funeral Home
125 Carlisle Street
Gettysburg, PA 17325
and on Thursday at the church from 10:00 AM until the time of the service
Service
St. Francis Xavier Catholic Church
25 West High Street
Gettyburg, PA 17325
Cemetery Details
Location
St. Francis Xavier Catholic Cemetery
West High Street
Gettysburg, PA 17325