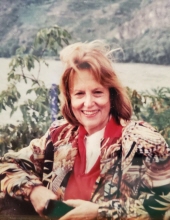 Obituary for Marilyn M. Rishell
Marilyn M. Rishell, 92, of Gettysburg, PA died Sunday afternoon, May 22, 2022, at the Gettysburg Hospital.
Born June 26, 1929, in Washington DC, she was the daughter of the late Paul and Hazel McMurray. She was the wife of the late Lt. Col. Clair Lyle Rishell who died May 21, 2011. They were married for 58 years.
Prior to moving to Gettysburg, they lived in Potomac, Maryland, for almost forty years and attended 4th Presbyterian Church. After moving to Gettysburg, the couple attended Gettysburg Presbyterian Church.
Marilyn grew up in the Washington DC suburbs with her brothers. Her mother, Hazel, was a businesswoman who bought and sold antiques and her father, Paul, was a military JAG officer during the second world war and later served as a judge on the Circuit Court of Appeals in DC. Marilyn went to the University of Richmond and graduated with honors and was very involved in her Phi Beta Kapa sorority. Her nickname was "Murf" and her husband was "Rish". They married in 1953 and remained together until his passing 11 years and one day before she went to join him. As an officer's wife and mother of four with friends galore, she traversed life with elegance and grace. She grew up in the Methodist church tradition. Then in the mid-1970's, she was invited to attend a Community Bible Study (CBS) group where she recommitted her life to Christ. As her children left the nest, she became more involved with CBS as a leader, teacher and counselor for over two decades. She took over her mother's antique business for a while after her mother died, and she became a very happy grandmother as her kids married off and started having babies. Marilyn loved to travel, read, write encouraging notes, have deep intelligent conversations, enjoy a great meal and a glass of wine. Marilyn led a truly remarkable life of love, joy and dedication to her Lord and Savior and to all who crossed her beautiful life. Her final years were difficult and punctuated by great suffering but made endurable by the loving care of her family and live-in caregivers especially Esther and Florence from the country of Ghana.
Marilyn is survived by her three children, Lisanne Rishell Bales and her husband William of Gettysburg, PA, Kevin Paul Rishell of Lakeway, TX, Eric Lyle Rishell and his wife Sandra, of Bridgewater, VA, 16 grandchildren, and 16 great grandchildren. She was preceded in death by her daughter, Sandra Lynn and her two brothers, Haden and Donald McMurray.
Funeral services will be held, 4:00 PM, Saturday, June 11, 2022 at the Gettysburg Presbyterian Church, 208 Baltimore St., Gettysburg, PA with Rev. Lou Nyiri officiating. Burial will be at Arlington National Cemetery, at a time and date yet to be determined. The Monahan Funeral Home is in charge of the funeral arrangements and online condolences may be made at monahanfuneralhome.com.
Read More
Previous Events
Service
Gettysburg Presbyterian Church
208 Baltimore Street
Gettysburg, PA 17325
Cemetery Details
Location
Arlington National Cemetery
Memorial Ave.
Arlington, VA 22211