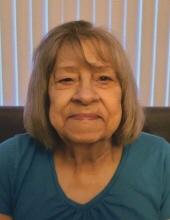 Obituary for Marion Gotwald
Marion Gotwald, 76, of Gettysburg, PA died peacefully Wednesday morning, December 29, 2021 at her home surrounded by her family.
Born December 8, 1945 in Punxsutawney, PA she was the daughter of the late Blair and Minerva (Cessna) Meckley. She was the wife of Ronald E. Gotwald, of Gettysburg to whom she was married to for 45 years.
Mrs. Gotwald worked for a number of years as a CNA at the former Green Acres Nursing Home, in Gettysburg. She was a past officer and very involved as an Auxiliary member of the Gettysburg Eagles. She loved spending time with her family, especially her grandchildren and great grandchildren.
In addition to her husband, Marion is survived by her seven children, Lorrie A. Kennedy and her husband Stephen, of Granger, IN, Richard C. White, Jr. and his wife Anna, of Punxsutawney, PA, Michael J. White and his wife Micah, of Punxsutawney, PA, John E. White and his wife Missy, of Gettysburg, PA, Tricia A. Walton and her husband John, of Punxsutawney, PA, David R. Gotwald, of Punxsutawney, PA, Betty A. Shull and her husband Brian, of Weedville, PA, numerous grandchildren and great grandchildren, and her four siblings, George Meckley and his wife Marion, Richard Meckley and his significant other Robin, Janet Phillips, and Gary Meckley. She was preceded in death by her grandson, Samuel Shull, and six siblings, Ruth Lamer, Phyllis Goldinger, William E. Meckley, Robert Meckley, Joanne Franklin, and Kenneth Meckley.
Funeral services, being handled by the Monahan Funeral Home, will be private and at the convenience of the family. Online condolences may be made at monahanfuneralhome.com.
Read More