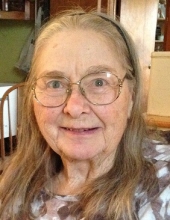 Obituary for Marjorie J. Bradley
Marjorie June Bradley (nee Lamb) passed away Sunday, August 15th, 2021 at home in the loving care of her sons, Eric and Calvin.

Born October 20, 1925 in Cleveland, OH, my mom's adventures in life began early. After her father lost his politically appointed engineering job and the Great Depression began, the family moved to a farm in Coshocton, OH where her parents, older sister Betty and younger brother Charles learned to become much more self-reliant and creative with the resources they did have. This was a trait mom carried with her throughout her life. Stories of the farm animals (baby lambs became the topic of an illustrated child's book she wrote for us) and of the day they got a covered passageway to their outhouse, were often retold.

When an opportunity arose for her father to get another engineering job in Tampa, FL, off the family went! Mom loved her time there with so many friends and things for a teenager to do. After World War II began, her father wished to re-enlist but due to health issues he was unable to do so, but the family relocated to Chevy Chase, MD where he was able to work for the Department of the Army. Mom spent her senior year there and the next year she began to study art at the Corcoran School of Art at George Washington University. She earned her AA degree but not before tragically losing her father at age 19 of a sudden heart attack on his way to work. Of course this was a traumatic event not only for her but the whole family. Her mother Irene had many challenges but managed to take care of everyone and everything. Mom was very close to her mother and I found a loving tribute she wrote to her that she had published in a paper when living in VT.

Her adventures in MD had started with jobs as a counter girl at a dry cleaner and a waitress at the Hot Shoppe. She thought it likely she even had passed her future inlaw, an usher whose family owned the Bethesda movie theater, several times. She had to economize though so another theater in town offered cheaper shows so she went there more. After college she worked for an accountancy firm (and did an art commision for them) and then at Army Map Service where she would draw maps based on aerial photography, always careful to make sure what she was seeing would be as accurate as possible. Single, she lived with her mother who was very picky about her dates, often flashing the front porch lights if she was lingering too long in a car out front with one she didn't approve of.

Her mother Irene loved the beach and bought a small cottage (a former drive thru restaurant) in Nags Head, NC that mom and she remodeled and stayed in or rented. Mom worked in the production office of The Lost Colony play where she would give the paycheck to one of the play's actors, Andy Griffith and even dated several times the twice Olympic bronze medal decathlon winner Floyd "Chunk" Simmons. Floyd was an artist too (one of his watercolors still hangs at the house) and even wanted mom to help him run a business with him doing the painting and her doing the bookkeeping. No offence to the Simmons family, but my mother was a wonderful artist and better then him so I think the suggested arrangement was backwards. While studying art, mom became friends with a fellow artist Jean Reasoner Plunket (granddaughter of Abbott Thayer and renowned pastel portrait artist in her own right). I even remember visiting her house along with mom one time. Mrs. Plunket's annual pastel Christmas cards drawings of her ever changing family were carefully packed away decade after decade. Mom has an early pastel portrait of her wearing a yellow sweater she did that still hangs at the house today. Our mother's artwork was a lifelong endeavor and I don't just say this as her child, but she was an amazing sculptor and acrylic painter and also a sketch and pen and ink and pastel artist. She won many awards and showed and sold her art through various means. She had the most amazing touch in selecting and balancing the colors in a composition and I can see her running the tools over a half formed mound of terracotta clay and gently catching and dragging the bits of grog with them as she worked.

Her biggest love and devotion though was to her husband and children. She met Dad when she began working at the reception desk in the Clinical Building at NIH. He was the shy nuclear biophysicist that mom's boss encouraged her to meet and date. Ironically she had just dated a man with the same exact name as my father -such a crazy coincidence. They hit it off and would go to concerts and eat at the Hot Shoppe together. He would say she was the one because he would always get his coin back from the payphone after talking to her. Also he said she was a good luck charm because after dating her he got the job he had been hoping for in Building 2 at NIH. They soon married but not before she took a six week trip to Europe that had been planned before they met (and thanks to her Pan Am pilot brother who had a ticket that Irene, who was afraid of flying, wouldn't use). Always a lover of the mountains, Switzerland was her favorite stop.

Mom and dad married in 1958 and built a house on property that dad had in Rockville, MD. That is where all three of us kids were born and where we have tons of childhood memories from. Mom had wanted children her whole life and dad did too and their love for us was obvious. With dad busy working and not having a love of travel, mom took us on many, many small adventures: an open house at the Kuwaiti Embassy, a musical at Shady Grove outdoor theater, estate sales, simple shopping trips, travel to OH to see relatives, a trip to

Clingman's dome in TN (where we kids were amazed that we could actually walk into a cloud), arranging ice skating classes not only for us but our fellow elementary school students at Cabin John Rink. Of course she was a room mother, involved in PTA, and taught us kids art (and even a demo class in casting at Montgomery Junior College) . We all entered artwork in shows (she often signed her art and writing "Marjie") and at the Montgomery County Fair. She later also became a 4H recruiter and sold Avon in the neighborhood delivering the individually packed order bags on her bike (we loved seeing the new products but my dad hated perfume so we had to store any goodies we bought for ourselves in the basement). They also bought 60 acres in West Virginia that my parents thought one day they might settle on but that plan never happened. But we kids loved the trips there and especially during apple season where we would buy bags of them and sit in the back of the station wagon and just stuff ourselves. There were many of the classics too like baking bread (she said we should punch and knead the bread like we were trying to get our frustrations out) and making rock salt ice cream with a crank maker. There are so so many memories, far too many to write about here!!!

When Dad decided to retire, we moved to Gettysburg, PA, in 1976 where they then and now my brothers remain to this day. The small farm they own was loved by us all. My dad started a greenhouse business that continues to this day also. And mom always enjoyed designing planters and baskets and helping with sales. When we kids were starting out on our own, mom, always a social person with an endless love of life and new experiences (yes in her day she even swam, skied, ice and roller skated, played tennis, biked) decided to write human interest stories for some of the area papers like the Gettysburg Times, Hanover Sun, and York papers. At first they would send a photographer along but she decided to start taking her own pictures and bought what she called a decent camera and did it. She loved the people she met and loved to tell stories about those people and about her life in general.

Later years found my mom and dad building (with the help of my brothers) and living part year for several years in a cabin in Lyndon Station, VT. Mom loved that place, swimming at the college pool, going out with friends and continuing her artwork and newspaper story writing but more as an occasional contributor at this point. Sadly as both my parents aged, it became hard for them to continue living in VT so they returned back home to Gettysburg full time. Her grandson Nate was born at this time and she showed him love in small ways like making him a small Noah's Ark quilt (with a bunch of animals). She was his Granny Crinkles and through the years all us (and our friends) in WI still know and call her simply, Crinkles. Visits back and forth from them continued until a short time later it became too hard on them to come here. We then continued visiting them as much as we could. Mom continued her artwork, sold items at the Hanover Art Guild, met up with friends, taught Bible Study classes, and continued to live life to the fullest as long as she could. She was a wonderful Christian woman who lived the faith by example. She taught me to appreciate and enjoy the tiniest, often very mudune or common of things (something that as a typical kid it took me years to appreciate, like so many other things she tried to teach me). All of us are thankful for her friends and family and the acts of kindness shown to her throughout her life, as was she. We will miss her dearly.
Read More
Previous Events
Service
Monahan Funeral Home
125 Carlisle Street
Gettysburg, PA 17325
Burial will be in Arlington National Cemetery at a later date