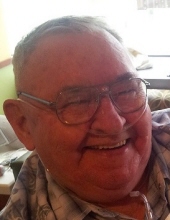 Obituary for Martin "Bud" Healy
Martin "Bud" Healy

Healy is survived by Connie and the family he adored: his five children Joe, Tom, Traci, John and Reneé, their spouses, Mary, Fred, Arturo, Lisa and Aaron, his eleven grandchildren, Joe Jr., Erin, Jeffrey, Blake, Taylor, Gavin, Hank, Allie, Foster, Kian and Lucas, and his great-granddaughter, Harlow.

He is also survived by his sister, Marion Oliva, and his brother William J. Healy Jr. His late parents, Winifred and William H. Healy, were Irish immigrants, Winifred from Sligo and William from Mallow in County Cork.

Healy was born in St. Agnes Hospital, White Plains, NY on November 9, 1938. He spent much of his career in law enforcement, beginning as a patrolmen in the Greenburgh, NY Police Department, where he was Rookie of the Year in 1966. For many years, he served as Chief of Police in Cooperstown, NY. He was then Director of Safety and Security at Mount Vernon Hospital and later worked in real estate. In 2008, he retired to Gettysburg, PA with his loving wife.

A celebration of Martin "Bud" Healy's life will be held on March 17, 2017 in Valhalla, NY. The date is in honor of Bud and Connie's first date on that day in 1978 and in tribute to Bud's love for his Irish lineage. Bud loved the jig and he loved to sing. He loved life, and he especially loved his family.