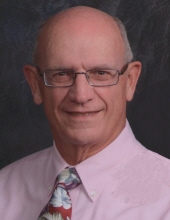 Obituary for Martin Thomas "Marty" Young
Martin Thomas "Marty" Young, 81, of East Berlin, PA passed away on Friday, September 2, 2022 at the Hanover Hospital.
Born February 13, 1941 in Hagerstown, MD to the late Harry Martin Young, Jr. and Edith L. (Mackey) Young. Marty is survived by his loving wife, Anne, with whom he shared 56 years of marriage.
Marty is also survived by his two children, Michelle Young (Connie Wirfel) of Winchester, VA, Mark Young (Trish Young) of Thomasville, PA, his two grandchildren, Madison & Grant Young, and a nephew, Andrew Young (MA).
Marty is predeceased by his sister Barbara Young, and brother David Young.
Marty graduated from Bogata High School in Bogata, NJ and followed in his father's footsteps, graduating from Gettysburg College and continuing on to the Gettysburg Lutheran Seminary. He was ordained in May of 1967 in Ocean City, NJ. He was known by many as Pastor Marty and served many parishes throughout his life. Marty retired in 2006 from Trinity Lutheran Church in Ellwood City, PA, where he was also a member of the Rotary Club. Since retirement, he has served as an interim and supply pastor in many Lutheran congregations around the Gettysburg area.
He was an avid golfer and a member of a senior golf league with a group known as "The Owls". He also loved tending to his flower garden because therein he enjoyed the beauty of God's creation. He especially loved spending time with his family, often helping with DIY projects and spending time with his grandchildren who affectionately referred to him as "Pop Pop".
A memorial service and luncheon will be held on Saturday, September 24, 2022 at 10:30am at St. James Lutheran Church in Gettysburg, PA with Rev. Andrew Geib officiating. Overflow parking is available within walking distance at Racehorse Alley Parking Garage. In lieu of flowers donations can be made to www.stjamesgettysburg.com/give/onlinegiving or www.sccap.org/donation . Online tributes and condolences can be made at www.monahanfuneralhome.com
Read More