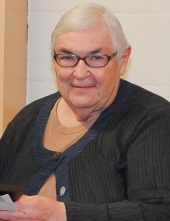 Obituary for Mary C. Furlong
Mary C. Furlong, 81, passed away suddenly on Monday, November 21, 2022 at her home.
She was born July 14, 1941 in Muscatine, Iowa the daughter of the late Edward and Catherine Furlong.
Mary earned a BA in Social Studies and Education and a Masters in Political Science from the University of Iowa. Mary, a former English and social studies teacher and member of the Delone Catholic Hall of Honor, Class of 2018. She began her career at Delone in 1965. Her distinguished career at Delone Catholic ended with her retirement in 2000, but her service as an educator continued on a global scale, and her volunteer service to Delone Catholic would continue until her death.
By itself, Ms. Furlong's work directly to the benefit of Delone Catholic and its students has cemented her legacy as an exemplary "Doer of the Word." However, she was never satisfied to sit by if she could make a difference, whether it be locally, nationally, or internationally. She was awarded two Fulbright Grants on Islam in Malaysia and Ghana. Her areas of interest and service have been varied, ranging from diversity initiatives, interfaith activities, and civil and human rights efforts to voter registration and election work, health care, and education activities. Though retired from teaching at Delone Catholic for more than 20 years, Ms. Furlong continued to volunteer at Delone Catholic and challenge alumni and current students and faculty members to venture outside their comfort zone and see the world differently. She was an invaluable resource to the school due to her vast network of relationships with alumni and their families.
.
In addition to teaching English and social studies, Ms. Furlong coached forensics at Delone Catholic, where her work in and out of the classroom inspired students to find ways to make a positive difference wherever they could. Ms. Furlong was a co-founder of the Mock Political Convention, which began in 1968 and has continued every four years since (with the exception of 2020, when the COVID-19 pandemic canceled the planned event). Ms. Furlong initiated and coordinated the school's human rights assembly for 15 years, served on the faculty advisory committee, and was a three-term faculty representative on the Board of Directors. She initiated a mock trial team which placed second in the state twice. Ms. Furlong revived the forensics team, which placed third nationally, won two state championships and finished second in the state three times under her guidance. She is a member of the Pennsylvania High School Speech League Hall of Fame.
After her retirement from Delone Catholic, Ms. Furlong spent more than two years as a teacher trainer for the Zambian Open Community Schools, organizing English and social studies curricula and training more than 50 teachers. She later served as an HIV/AIDS program coordinator at the Kabwe Kara Counseling Ranchhod Hospice and Children Centre in Zambia. Ms. Furlong returned to Africa as a professor of political philosophy at Kachebere Major Seminary in Malawi. In addition to her global service, Ms. Furlong's work as the Adams County Development Coordinator for RSVP of the Capital Region for more than a decade helped to provide meaningful volunteer opportunities to senior citizens throughout south-central Pennsylvania. She took great pride and joy in volunteering at the Eisenhower National Historical Site as a tour guide. She has been a Companion with the Sisters of St. Francis of Philadelphia for 25 years and served on their Justice, Peace and Integrity of Creation Committee for twenty five years. Her relationships with the Islamic Communities led her to connect the sisters with Zubaida Community in Yardley, PA. She served on numerous education and ecumenical committees.
Though her loss will be felt worldwide, her legacy will surely endure in the thousands of lives she touched as a lifelong teacher and learner. May her soul and the souls of all the faithful departed, through the mercy of God, rest in peace. Amen.
Mary is survived by two daughters Judy Coinbert of Chambersburg, PA, Rachael Manderson of El Paso, TX, three grandchildren; Amber Coinbert and Joslyn Judon, Amanda Coinbert, five great grandchildren; Aniyce Judon-Coffey, Xzavier Garcia, Jazzlynn Garcia, Emerey Cool, Bentley Cool, and a brother John Furlong of Riverside, Iowa, and a sister, Elizabeth Furlong of Omaha, NE.
A Memorial Mass will be celebrated on Saturday, December 3, 2022 at Lawrence B. "Sonny" Sheppard, Jr. Memorial Gymnasium at Delone Catholic High School, 140 South Oxford Avenue, McSherrystown, PA at 1:00 PM. A reception will follow at the school. In lieu of flowers memorials can be made to Delone Catholic High School or the Adams County Library. Those unable to attend the funeral Mass and Eulogies will be broadcasted live on Delone Catholic Broadcast Network, at the school's YouTube channel and also on demand @www.delonecatholic.org/apps/pages/dcbn. Online obituary and condolences available at monahanfuneralhome.com
Read More
Previous Events
Service
Lawrence B. "Sonny" Sheppard Memorial Gymnasium at Delone Catholic High School
140 South Oxford Avenue
McSherrystown, PA 17344