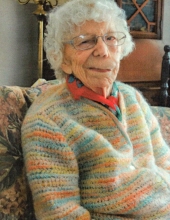 Obituary for Mary Cecelia Sullivan Laidlow
Mary Cecelia Sullivan Laidlow was born on Hallowe'en, 1925, in Martinsburg, WV, to the late Estha M. Combs Sullivan and Paul H. Sullivan. She was married to Stewart W. ("Turk") Laidlow until his death in 2002. Mary died on June 21, 2018.

A double-major (English and Biology) graduate of Shepherd University, and president of the graduating class, and vice-president of Sigma Sigma Sigma sorority, she began her teaching career at Harpers Ferry High School until becoming a charter member of the faculty of Musselman High School, founding the school's newspaper, "The Cider Press." In Martinsburg Mary was a founding member of Berk-Mar Garden Club and one of its early presidents. She was also an active member of the Jr. Civic League and the choir of Trinity Episcopal Church, where she also taught Sunday School and served on the Altar Guild. Growing up in the post-World War II years and always having a passion for music and dancing, she was a USO hostess; she also performed on stage: singing, dancing, and acting in local talent productions.

Moving the Gettysburg in 1963, she continued garden club activities, holding offices in the Gettysburg Garden Club. At Prince of Peace Episcopal Church, she sang for many years in the choir, taught Sunday School, and served several times as president of Episcopal Church Women. Mary also served on the Vestry and numerous committees, including co-chair of the Prince of Peace Golf Tournament, early soup kitchen, prison library, Every Member Canvass, refugee resettlement, search for rector, and as a Prince of Peace weekly office volunteer. She supported many organizations for the protection and care of homeless animals, wildlife, and the ethical treatment of all animals. She was an avid reader and enjoyed creating her own poetry and prose. Through the years she also was a Cub Scout (Pack 79) den mother, a member of AAUW, and the Gettysburg College Sub League; she was a member and did volunteer work for Friends of the Library Book Store, and for 37 years she played in the Monday Night Bridge Club. She taught school on both the senior and junior high levels in the Gettysburg Area School District, retiring in 1993.

Mary is survived by three children: Mark S. Laidlow (Phyllis) of Ashland, VA; Scott E. Laidlow (Renee) of Powatan, VA; M. Elizabeth L. Berger (Joe) of Westport, CT; and seven grandchildren: Eric Laidlow, Adam Laidlow, Colton Berger, Maxim Berger, Christopher Laidlow, Leslie Laidlow and Joey Berger.
She wishes to thank you for all the random acts of kindness she received, especially in her older years. Those she knew have been personally thanked and prayed for; others were thanked in her prayers – all of you are very special people.

Memorials may be made to Prince of Peace Episcopal Church, P O Box 3005, Gettysburg, PA 17325, toward their Memorial Garden, or to one's choice of animal organizations.

A memorial service will be held on Saturday, July 7th, at 11:00 AM at Prince of Peace. A reception will follow in the church parlor.
Read More
Previous Events
Service
Prince of Peace Episcopal Church
20 West High Street
Gettysburg, PA 17325