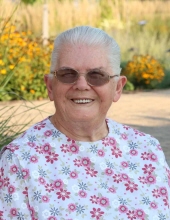 Obituary for Mary Lou Sensenig
Mary Lou Sensenig, 81, of Hanover, PA passed away on Tuesday morning, January 31, 2023 after a short illness at her home.

Born September 28, 1941 in Ephrata, PA she was the daughter of the late Martha Sensenig Shelly, who died June 2006 and Jacob S. Sensenig, who died March 1978.
She attended Sonlight Christian Fellowship and enjoyed Knotting Comfort for the Sewing Circle.
Mary Lou was the loving sister to Ruth Ann Kopp (Don), of New Oxford, PA, , Ernest Sensenig (Marie), of Chambersburg, PA, Rhoda Smallwood (Ron), of Hanover, PA, Dan Sensenig (Janet), of New Oxford, PA, Martha Crider (Ray), of Shippensburg, PA, Rose Diller (Galen), of Spring Grove, PA, Darrel Sensenig (Laurie), of Hanover, PA, Paul Sensenig (Nancy) of North Carolina, Debra Grove (Nathan), of Hanover, PA, two sisters-in-law, Deloris Sensenig, of New Oxford, PA, Dorothy Sensenig, of Kentucky, step-brothers, and sisters, Ethel Shelly, Lois Wenger (Earl), Jay Shelly (Linda), Robert Shelly (Elmeta) Glenn Shelly (Ruth), Doris Zimmerman (Barry), Delores Potocnik (Todd). In addition to her parents, Mary Lou was preceded in death by three brothers, James, John, and Kenneth. She was loved by many nieces, nephews, and friends.
The family has entrusted the Monahan Funeral Home to be in charge of arrangements. There will be a visitation on Sunday, February 5, 2023 at Sonlight Christian Fellowship, 563 Brickyard Rd., New Oxford, PA from 2-4 PM and 6-8 PM. Services will be at 10 AM, Monday morning, February 6, 2023 at the church. Burial will be in the Mummasburg Cemetery, Gettysburg following the services.
Family suggests memorial contributions be made to CAM, P.O. Box 360, Berlin, OH 44610.
Online condolences may be made at monahanfuneralhome.com.
Read More
Previous Events
Visitation
Sonlight Christian Fellowship
563 Brickyard Rd.
New Oxford, PA 17350
Visitation
Sonlight Christian Fellowship
563 Brickyard Rd.
New Oxford, PA 17350
Service
Sonlight Christian Fellowship
563 Brickyard Rd.
New Oxford, PA 17350
Cemetery Details
Location
Mummasburg Cemetery
2500 Mummasburg Rd.
Gettysburg, PA 17325