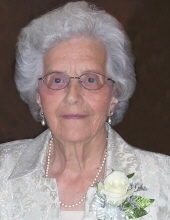 Obituary for Mary Louise (Bupp) Kepner
Mary Louise (Bupp) Kepner, of Gettysburg, peacefully passed away on Wednesday, March 24, 2021, surrounded by loved ones. She was born April 5, 1933, the daughter of Alvin and Mary (Thomas) Bupp.

She was a member of the Gettysburg Church of the Brethren where she volunteered as a Sunday school teacher and in other support capacities.

Mary was a graduate of the Gettysburg High School Class of 1951. She briefly worked in the clerical department at the Annie M. Warner Hospital in Gettysburg. The majority of her career was spent as a homemaker. She was an enthusiastic proponent of education and experiencing as many cultural, social, and extracurricular activities as possible. She dedicated her parenting to providing as many of those opportunities as possible for her daughters. She was a devoted caregiver and advocate for many elderly and vulnerable family members and close friends. She was always willing to assist with any need. Many depended upon her selflessness, reliability, and dedication. Mary will be remembered for her caring, thoughtful, nurturing nature.

She was fortunate to participate in many favorite pastimes. She enjoyed attending theatrical and musical performances at the Majestic, Hershey, and Strand Theaters and the Shippensburg University Luhrs Center. She loved taking family beach vacations, hosting family gatherings, spending time and corresponding with friends, visiting craft shops, decorating her home, gardening, adding to her Fenton glass collection, and visiting local tearooms. She loved flowers and gardening. Her pride and joy were her grandchildren and great-grandchildren. Her greatest treasure was the time that she spent with them. She never missed a school or church performance, program, game, concert or visitation day. She prioritized their special outings, "kitchen science projects," nature walks, and annual holiday traditions. Even as much was slipping away from her, Brienna, Brandon, Dustin, Jordan, Cameron, Nathan, Stella, and Brady were always in her heart and mind. They were a consistent source of comfort, happiness, and recognition for her.

She was predeceased by Vernon H. Kepner, her husband of sixty-six years, her sister Anna Myers and brother-in-law Donald Myers, her brother Kenneth Bupp and sister-in-law Ginger Bupp, her sister Jane Bupp, her sister-in-law Anna Kepner, her brother-in-law Joseph Hackman, and nephews James Myers, Alan Myers and David Myers. She is survived by daughters Linda Kepner, Jean Kepner, Cyndi Smith and husband Brad, Sue Orndorff and husband Brad, Mary Beth Mickley and husband Charlie; granddaughter Brienna Smith; grandsons Cameron Mickley, Nathan Mickley, Jordan Orndorff, Brandon Orndorff and wife Abby, Dustin Smith and wife Jaime; great-grandson Brady Orndorff and great-granddaughter Stella Smith; sister-in-law Ruth Hackman; nieces Joanne Miller(Vernon), Teresa Myers, Melissa Hower(Robert); nephews David Hackman, Stephen Myers, Donald Myers(Roxey), Michael Myers(Joann), John Myers(Hattie), and Kevin Bupp(Robyn).

The Monahan Funeral Home in Gettysburg has been entrusted with the funeral arrangements. Online condolences may be made at monahanfuneralhome.com. There will be no public visitations or service at this time. Interment at the Marsh Creek Brethren Cemetery will be private. A Celebration of Life Service for family and friends will be held at a later date due to the current national health crisis.
Memorial contributions can be made to the Alzheimer's Association: Greater Pennsylvania Chapter- Harrisburg Office via internet at alz.org/pa (using the donate button – memorial notation) or mailing at Alzheimer's Association: Greater Pennsylvania Chapter- Harrisburg Office, 2595 Interstate Drive, Suite 100, Harrisburg, PA, 17110 and The Adams County Office for the Aging Meals on Wheels or other senior programs via internet at acofa.org (to download a donation form) or via mailing at Adams County Office for Aging, Inc., 318 W. Middle Street, Gettysburg, PA 17325.