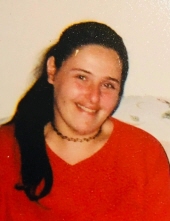 Obituary for Melissa "Missy" Evans
Melissa Evans (Missy) born in Gettysburg to Gary Jr Evans and the late Olive Evans of Gettysburg passed away at 46 in her home on Saturday July 24th 2021 suddenly and unexpected.

Missy was predeceased by her husband Dennis Graham of Fayetteville and her niece Shianne Hibbitt of Georgia.
She is survived by her brother Gary Evans of Gettysburg and her Sister Sonia Hibbitt and brother in law Shane Hibbitt of Georgia. Her stepson Bryan Graham and her nieces Shania Keel, Emily Zeigler, Katelyn Evans and Samantha Evans. Her nephews Shane Hibbitt, Eric Zeigler, and Seth Hibbitt.

We don't know why you had to go but we know that we will miss you so. With your happy smile, and your sense of fun we can't take in, that you are gone. You brought joy to every life you touched and you are missed, so very much. But a beautiful soul lives on forever and memories of you we will always treasure. Now you spirit has been set free to be with God for eternity enfolded in love as you soar on high but for awhile we must say goodbye. So rest in peace free from all pain until we meet in heaven united again.

In lieu of flowers memorial can be made to Monahan Funeral Home to help defray funeral expenses. Online obituary and condolences available at monahanfuneralhome.com.
Read More