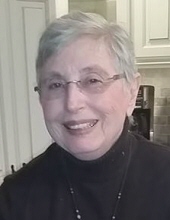 Obituary for Nancy Anne Matthews Rice
Nancy Anne Matthews Rice, 83, of Gettysburg, PA, formerly of Poolesville, MD, passed away Saturday, August 12, 2017 at her cherished home surrounded by her loving family following a lengthy battle with pancreatic cancer. She was born April 14, 1934 on a farm in Poolesville, MD to the late Charles Maynard Sr. and Isabell Mariah (Waddell) Matthews. She was the wife of the late John (Jack) Nelson Rice.
Nancy was raised with her brother, Charles Maynard Matthews, Jr. and her sister, Sarah Gertrude Matthews Poole and numerous foster-care siblings, living on various farms in the Poolesville, MD area. From age 14 until she married Jack at age 18, Nancy worked in her parents' Gaithersburg MD restaurant, All States Inn. By the time she was 16 she had saved enough money to buy a beautiful red convertible. Nancy attended Richard Montgomery High School in Rockville, MD, and, being a superb athlete lettered in numerous sports.
When first married, Nancy and Jack lived in Takoma Park, MD and Derwood, MD, finally settling on her parents' family farm in Poolesville. During these years, Nancy worked in the front office of Safeway Grocery in Bethesda. She was exceptional with numbers and a star employee, taking care of the store's books and trusted with all of the deposits.
After moving to Willard Road in Poolesville in the early 1960s, she ran an in-home senior care business while raising her four children. Her "patients" flourished under her care, their lives enriched with incredible home-cooked meals, comfortable rooms and the benefits of being included as a member of Nancy's own family. Nancy's youngest daughter Chris and her best childhood friend and next door neighbor Patti always provided the patients with lively entertainment including Carol Burnett imitations and mischievous raw spaghetti ankle tickling. At that time Nancy and her family lived next door to her parents who ran a larger nursing home. Nancy and her children were the fortunate receivers of "Mammie and Grandad's" calm presence just steps away, Mammie's famous southern cooking and Grandad's endless patience.
Over the last 30 plus years Nancy has been an innkeeper at Brierfield B&B in downtown Gettysburg and later the Brierfield Country Cottages on her beautiful property just west of the historic town. She enjoyed incredible repeat business at her B&B and made many faithful friends over the years. She was known for her scenic property, beautiful cottages, wonderful breakfasts, and, most of all, her open ears and loving heart. Her talents also extended to home design, landscaping, interior decorating and flower arranging. Nancy also loved to attend auctions where, with her innate sense of quality and market value, she purchased antiques and "box lots" at good prices. If you knew Nancy you were surely the beneficiary of at least one of her great buys.
Nancy was deeply loved by her children and their families, her many long-time friends and her loving dog Coco, who passed a few years ago. She always strived to please her family, friends and guests and never truly tired until she was struck hard at age 81 with pancreatic cancer.
Nancy is survived by her four children, Kathleen R. VanFleet, of Georgetown, TX (and husband Mike and son Collin Pinilis) John L. Rice, of Champion, Michigan (and wife Regli and sons John, Charles and David), Janet R. Larson, of Easton, MD (and children Nancy Varney, Abby, Curtis and their father Mike), I. Christine Orndorff, of Gettysburg, PA (and husband Todd, daughter Jenna Shrader and son Joe), and five great grandchildren.
Funeral services will be held on Friday, August 18 the Monahan Funeral Home, 125 Carlisle St., Gettysburg, PA. The family will receive friends from Noon to 2pm with the service following directly after. Those who wish are encouraged to say a few personal words about Nancy. Friends are invited to stop by Nancy's home after the funeral service starting at 3:30 pm.
Burial will be in the Monocacy Cemetery, 19801 West Hunter Road, Beallsville, MD on the following day, Saturday, August 19 at 11am. There will be a Celebration of Life later that same day at her daughter Janet's home at 6 Papermill Street in Easton, MD from 4 to 6 pm. While flowers are greatly appreciated, memorials can be sent to Sprit Trust Lutheran Home Care and Hospice, 2700 Luther Dr, Chambersburg, Pa 17202. Online condolences may be made monahanfuneralhome.com.
Read More
Previous Events
Visitation
Monahan Funeral Home
125 Carlisle Street
Gettysburg, PA 17325
Service
Monahan Funeral Home
125 Carlisle Street
Gettysburg, PA 17325
Graveside
Monacacy Cemetery
19801 West Hunter Rd.
Beallsville, MD 20837