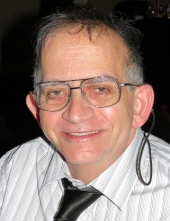 Obituary for Nicholas S. Vendetti
Nicholas Stewert Vendetti, 69, passed away Wednesday, January 20, 2021, at Transitions Healthcare in Gettysburg.

Born April 17, 1951, in Philadelphia, he was the son of the late Michael F., Sr., and Maye V. (Davis) Vendetti.

Nicholas was a special soul. Born with a learning disability during a different period, he wasn't afforded a normal life as a child. As an adult, he shared much of his time in the care of his mother until her death on April 24, 1982, and then his older brother, Michael F., Jr., until his death on May 31, 2009. After his brother's death, Nicholas' care transitioned to his nephew.

He is survived by his nephew: Michael F., III, and wife Elizabeth of Hanover; a niece: Kathleen Devich of Cape Coral, Fla.; and nine grandnephews and grandnieces: Christina Turley, Deserie Sayre, Erica Vendetti, Olivia Catalano, Michael Vendetti, IV, Toni Eger, A. J. Harding, David, and Samantha. He was preceded in death by a half-sister, Margaret E. 'Tootie' Shultz; a brother, Kenneth Paul Vendetti; and an infant sister, Philomena Vendetti.

Nicholas' body will be cremated and the ashes scattered privately by his family.

Arrangements have been entrusted to Monahan Funeral Home, Gettysburg with online obituary and condolences available at monahanfuneralhome.com.
Read More
Events