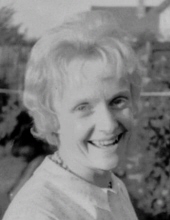 Obituary for Patricia A. Pitney
Patricia A. Pitney, 84, of Gettysburg, formerly of Arendtsville, died Tuesday, May 16, 2017 at SpiriTrust Lutheran in Gettysburg.

Patricia Ann Foster was born in Solihull, England on September 20, 1932, a daughter of the late Horace Foster and Ethel Dunford Foster. She attended Abbot's Bromley School for Girls as well as Domestic Science College. She met her husband, Peyton, on a blind date while he was on a teaching exchange in England. They fell in love and married shortly after, spending their honeymoon sailing across the Atlantic on the Queen Elizabeth. Tricia and Peyt were married for 46 years until his death in 2008. They settled briefly in Elizabeth, New Jersey where their daughters were born. Shortly thereafter, they moved to Northfield Mount Hermon School in Massachusetts for 13 years where Tricia enjoyed being active in the community including singing in a local choir, entertaining in her home, caring for her daughters, and later working in the school's Development Office. In 1978, they moved to Arendtsville, PA where Tricia worked nearby at Gettysburg College in Fundraising and Development as well as for The Gettysburg Review until her retirement in 1997.

Tricia was known for her loving, friendly and joyful spirit. She was passionate about peace and conflict resolution and enjoyed volunteering for Gettysburg Interfaith Center for Peace and Justice and various other organizations. In 2002, Tricia and Peyt were awarded the United Way's Heart and Hand award for their work with the annual Adams County Heritage Festival.

Tricia enjoyed playing the piano from an early age and became quite an accomplished pianist. Additionally, she enjoyed writing poetry, gardening, listening to classical music, and spending time with her family - especially in the Outer Banks of North Carolina.

She is survived by two daughters: Susan Giuffreda and her husband, Tony of Gettysburg and Jennifer Schimmel and her husband, Steve of Mill Valley, California. She also leaves behind seven grandchildren: Thomas, Timothy, Matthew, Kristin, Elizabeth and Emily Giuffreda of Gettysburg and Dominic Schimmel of Mill Valley, California. She was predeceased by a sister, Barbara Norton, and two brothers, Samuel and Anthony Foster.

A Celebration of Life for Patricia Pitney will take place on Saturday, July 8, 2017 at 1:00 pm at The Gettysburg Hotel, One Lincoln Square, Gettysburg. There will be a reception immediately following in the adjacent Atrium Room.

In lieu of flowers, the family requests that memorial contributions be made to Interfaith Center for Peace and Justice: icpj-gettysburg.org or The Land Conservancy of Adams County: www.lcacnet.org. Online obituary and condolences available at monahanfuneralhome.com.
Read More
Previous Events
Service
Gettysburg Hotel
One Lincoln Square
Gettysburg, PA 17325
With reception to follow.